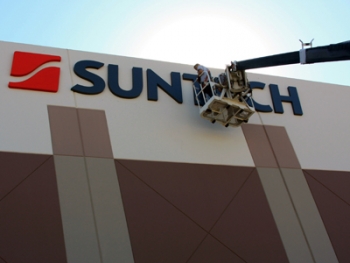 Suntech opens solar panel manufacturing plant in Goodyear, Arizona
Will create up to 150 jobs by 2013; production capacity of 30 MW annually
7th solar plant this year in Phoenix area because of new state tax incentive
A ribbon cutting Friday at a new solar plant in Goodyear, Ariz., marked the creation of another 75 green manufacturing jobs for the area and the first U.S. plant from the world's largest photovoltaic manufacturer, Suntech Power.
Governor Jan Brewer, along with local officials and corporate leaders, including Goodyear's economic-development director Paula Ilardo, was on-hand to officially open the plant's doors, as well as take a tour.
The new plant in Goodyear, a town of about 65,000 approximately 20 miles west of Phoenix, will be capable of manufacturing 30 MW worth of solar panels each year.
Ilardo estimates that the impact on the local economy through production of the solar panels over five years could be approximately $275 million. 
By 2011, Suntech could add as many as 150 jobs at the plant, another 540 indirect and direct jobs could be created in the supply chain by 2015, she adds.
"Suntech' s presence will make a difference in our community," Ilardo says. "And it has put Goodyear on the map. We have had several calls from other solar companies."
Arizona's growing solar economy
This is the seventh solar plant in the Phoenix area this year because of an enticing state renewable tax credit for companies moving in.
In 2009, the Arizona state legislature passed the new clean energy tax incentive in an effort to promote renewable energy in the state and boost employment.  It went into effect January 1.
The program offers two benefits: up to a 10 percent refundable income tax credit and up to a 75 percent reduction on real and personal property taxes.
"Suntech Goodyear represents our efforts to grow jobs in Arizona while demonstrating the importance of renewable energy, like solar, in diversifying and strengthening our state economy," said Gov. Brewer.
"The U.S. solar market is dramatically expanding, and Arizona must remain a competitive leader in the renewable energy sector. This plant strengthens our credentials as the solar capital of the world. It is an encouraging step for the growth of the solar industry, illustrating that Arizona's forward-looking policies are resulting in local job creation," she said.
Suntech took over a 120,000 square feet of a newly-constructed 197,000 square foot building that sat empty since it was built a few years ago.
According to Suntech, a Chinese company which has installed over 10 million modules in 80 countries, Goodyear was chosen because it had a well-located, existing building that met the company's immediate needs and expansion plans.
"It is phenomenal what they have accomplished in nine short years," Ilardo says of Suntech. "We can only assume they will expand in our city, because they are fast growing."