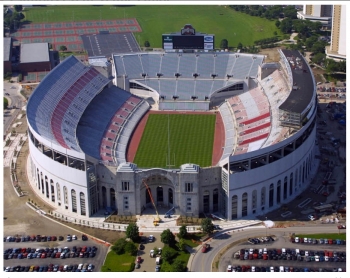 This year, Ohio Stadium - the football stadium for The Ohio State University Buckeyes - is moving to a zero-waste program. | Photo courtesy of The Ohio State University.
This weekend marks the beginning of my favorite season: football season. As an avid Ohio State fan, I'll be heading to Columbus, Ohio, dressed in scarlet and gray to cheer on my Buckeyes. And while I'm there, I'll be helping the university increase its sustainability as it moves to a zero waste stadium -- diverting 90 percent of trash from the landfill by recycling and composting.
Last fall, landfill materials from Ohio Stadium were reduced by 61.2 percent, the average diversion rate for the season increased by 28.8 percentage points, and an 82.4 percent diversion rate was achieved. The university has removed all stadium trashcans and placed recycling and composting bins across the stadium and in the parking lots.
Ohio State is well on its way to a zero waste stadium, but it isn't the only stadium going green. All of the Big Ten teams -- my conference of choice -- are focusing on sustainability and reducing their environmental impact. Here are what some of them are doing.
Indiana
100 percent compostable and biodegradable green packaging is available throughout the IU football season for fans in club level suites.
Memorial Stadium is included in the first phase of an upcoming Qualified Energy Savings Project --- upgrades will focus on HVAC, lighting, mechanical and control systems in the various buildings.
Student-volunteers will be in the stadium on game-day educating and engaging fans on recycling and departmental sustainability efforts.
The 440-square-foot green roof on Memorial Stadium is a crumb rubber synthetic turf system that reduces fertilizer, pesticide, and water inputs.
Michigan
In 2011, the university recycled almost 46 tons of waste.
Nearly 200 tons of water and pop bottles being recycled annually.
The recently renovated stadium boasts 250 recycling bins, with food and souvenir vendors participating in the program by recycling cardboard.
Fans hold "zero-waste tailgates" during football season.
Minnesota
Minnesota's TCF Bank Stadium received LEED Silver Certification. It was the first collegiate or professional football facility in the country to become LEED certified.
Nebraska
Each football season, nearly 20,000 pounds of plastic is recycled. Nebraska is implementing a new program to increase this number to 40,000 pounds.
At concession stands, the university has transitioned to recyclable serving ware, cups and napkins.
While college campuses and athletic programs go green, you can too. Visit energysavers.gov to get helpful tips on saving energy, saving money and protecting the environment. And don't forget to recycle at your next tailgate!