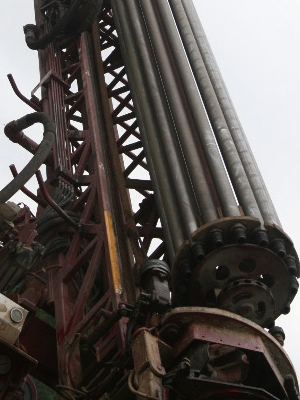 A 36-foot-tall drill was needed to install the geothermal system at the Gearon's house in Derwood, MD. | Photo courtesy of Chris Gearon |
Chris Gearon's 24-year old oil furnace was tired. What happened if the furnace died during the winter? The air conditioning system was also aging and inefficient. Chris saw buying a new heating system as a major investment, and it wasn't a decision he wanted to make on the fly.
Rather than wait for the ailing systems to break, Chris began researching heating and cooling options for his 4,400-square foot home in Derwood, Md. The family knew they wanted to explore alternative energy, and in the end, they chose to invest in a geothermal system to heat and cool the house.
"It really came down to the dollars and cents. Geothermal just made the most sense," Chris says.
Geothermal systems tap into the temperature of the Earth a few feet below the surface, which in Derwood is about 55 degrees. The system transfers heat from the Earth to warm the house. To cool the house, the process reverses.
Chris contracted out the project, and by October, he chose a team.
After some challenging moments throughout October and November− rerouting pipes, a 36-foot-tall drilling rig in his yard and landscaping concerns − the project was completed and in-use by Thanksgiving.
Since then, the system has heated the Gearon house through the holidays and a winter of record-breaking snowfall in the region.
"The system did well during the snow," Chris says. The heat is much less dry than their old oil furnace, he adds.
Although their power bill was higher this winter − the geothermal pump runs on electricity − Chris really expects to see the savings start kicking in this summer, where he estimates he'll use 25 to 50 percent less electricity to cool his house.
One major selling point for Chris was the tax credits. His installation started after the Recovery Act had been passed, and, as a result, he received a 30 percent tax credit on the project, totaling $7,180.
Not only did Chris use Recovery Act tax credits, he also explored state and county funding. It turns out that Maryland would grant him a $2,000 tax credit for the system, and Montgomery County would grant a $5,000 property tax credit.
"With the Recovery Act funds, it made the upfront expense much more bearable," says Chris.
The net cost for the installation was about the same as replacing the old oil furnace and AC system with a new one. He estimates that the geothermal system will be paid off entirely in three years.
"At the end of the day, it cost us about the same as if we just replaced our furnace and AC with another furnace and AC, but the big difference is that we're not spending $3,000 on oil bills anymore," says Chris. "For us it kind of seemed like a no-brainer."