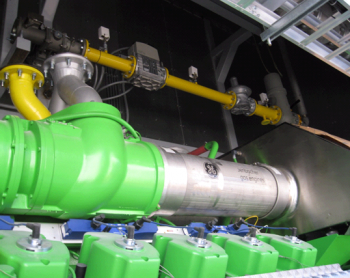 Interior view of the Gwinnett County "Gas To Energy" Project | Photo Courtesy of Gwinnett County, GA
Interior view of the Gwinnett County "Gas To Energy" Project | Photo Courtesy of Gwinnett County, GA
The folks in Gwinnett County, Georgia are undertaking a seriously noble task: taking some of the grossest stuff on earth, and turning it into some of the greenest stuff on earth. The county's unique "Gas to Energy" system being built at the F. Wayne Hill Water Resources Center will turn gases from digesting biosolids, fats, oils, greases and other high strength industrial wastes into energy, reducing operating costs and sanitary sewer overflows. Their innovative approach to energy conservation was recognized with a Create Award from the Atlanta Regional Commission.
The system is partially funded by $3.5 million from the county's Energy Efficiency and Conservation Block Grant through the Recovery Act.
The methane gas that the facility produces is a by-product of the wastewater treatment process. The new facility uses gas to generate just over two megawatts of electric power (enough to power 1,500 homes) and to provide process heat by recovering more than seven million BTUs of heat. This can supply about 40 percent of the entire plant's power needs as well as all of the process heat needed for the anaerobic digesters.
The energy savings are helping to offset a $35 million revenue shortfall in 2008 - the result of declining water consumption due to conservation efforts, drought restrictions and the overall economic downturn. By including fats, oil and grease, the county will improve system efficiency, provide an alternative to clogging the sewers and minimize the impact of rising energy costs on its customers.
At peak capacity, the system can reduce the facility's electricity bill by more than $1 million per year and generate additional annual revenue of up to $800,000. This renewable energy program also protects the environment by reducing greenhouse gases by up to 15,500 metric tons of CO2 equivalent per year.