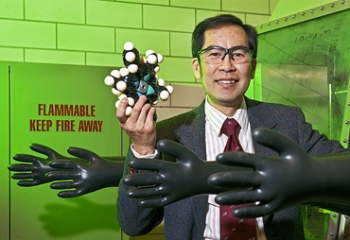 L. Keith Woo | Photo courtesy of Ames National Laboratory
Ames Laboratory researcher and Iowa State University professor L. Keith Woo is on the search for catalysts that lead to more efficient, safer and cleaner chemical reactions that work at lower pressures and temperatures and create less waste.
In one project, Dr. Woo is working to understand the chemistry behind fast pyrolysis for creating bio-oil from biomass. Fast pyrolysis quickly heats up biomass (such as corn stalks and leaves) in the absence of oxygen to produce a liquid bio-oil. In a second project, he worked with ISU professor Robert Angelici to find a gold-based catalyst that eliminates the need for harsh acids and high pressure in the production of commercial lactam, which is used in manufacturing nylons and other industrial polymers. And, in yet another project, Dr. Woo's research team is studying how to synthetically develop highly specialized catalysts with iron porphyrins (the heme in the hemoglobin of red blood cells).
With the latest approaches in their toolbox, Dr. Woo said his research group is able to quickly test a reaction using one hundred trillion different catalysts, and that, he explained, is "helping us find less expensive and more environmentally friendly materials and conditions to perform these catalytic reactions."
Read up on Ames Laboratory's search for cleaner, more efficient chemical reactions here >
---
Residential and commercial buildings account for 40 percent of energy use in the United States. A team at the National Renewable Energy Laboratory has developed a suite of energy modeling tools to help cut down on this consumption – free to anyone who wants to use them.
Whether upgrading existing buildings or designing new ones, modeling is a core component to reducing energy consumption. In fact, these tools helped design NREL's Research Support Facility, a model for cost-effective, super energy-efficient construction.
NREL Senior Engineer Nicholas Long noted, "Our goal at NREL is to help people design buildings that are more efficient so that we use less energy."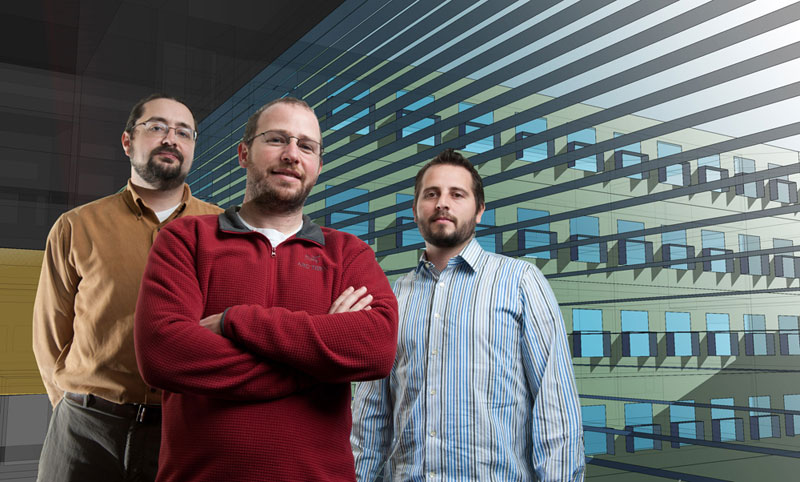 OpenStudio software developers Larry Brackney, David Goldwasser and Nicholas Long appear in one of the OpenStudio computer visualization that helped to design the RSF building at NREL. | Photo courtesy of David Schroeder and David Goldwasser
The Department's EnergyPlus program provides comprehensive building energy modeling for buildings. NREL is working to add tools to EnergyPlus, through its open source OpenStudio Application Suite and Google SketchUp. Through these programs, users can easily create a 3D model with photographs of a building. Additional plug-ins allow users to model lighting, equipment and simple HVAC systems.
To help users master the new OpenStudio tools, NREL has posted a variety of training videos on YouTube and the OpenStudio website, including the one featured below.
Check out more on OpenStudio and NREL's work in buildings research here and here.
Niketa Kumar is a Public Affairs Specialist with the Office of Public Affairs