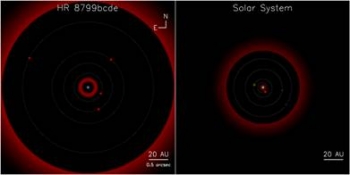 Schematic representation of the HR8799 system compared to our own solar system. | Photo Courtesy of NRC-HIA, Christian Marois and the W.M Keck Observatory
Using high-contrast, near infrared adaptive optics on the Keck II telescope in Hawaii, LLNL astronomers have identified a fourth planet that is part of a new planetary system discovered in 2008. The new planet, along with three others, orbits around a young star about 129 light years away named HR8799. Compared to our solar system, which clocks in at around 4.6 billion years old, this young system is only about 30 million years old.
 
While similar in many ways to our system, the HR8799 planets have a combined mass approximately 20 times higher than that of our own system's planets. Check out the image below comparing the orbital similarities of Jupiter, Saturn, Uranus and Neptune and the four HR8799 planets.
However, given the HR8799 planets' immense gravitational pull on each other, the system is vulnerable to falling apart. By simulating millions of years of evolution of the system, LLNL scientists have shown that to have survived this long and to keep surviving, the three inner planets must orbit like clockwork. This simulation shows thousands of years of evolution if the planets are not in a clockwork orbit or are larger brown dwarfs, which are failed stars that are too low in mass to sustain stable hydrogen fusion.
 
Bruce Macintosh, a senior scientist at LLNL and the principal investigator for the Keck Observatory program, noted, "It's amazing how far we've come in a few years. In 2007, when we first saw the system, we could barely see two planets out past the equivalent of Pluto's orbit. Now we're imaging a fourth planet almost where Saturn is on our solar system. It's another step to the ultimate goal – still more than a decade away – of a picture showing another planet like Earth."
 
Check out how Macintosh and his colleagues discovered HR8799 and its four planets.
 
---

Last month, Argonne National Lab Director Dr. Eric Isaacs shared why America must win the supercomputing race. This week, Oak Ridge National Lab announced that a University of Tennessee-ORNL team has developed software for supercomputers that can help fast track new drug treatments. This software will allow supercomputers, like ORNL's Jaguar, to run through massive molecular databases and select the right chemical compounds for potential drugs.
 
As part of the initial steps in drug development, researchers must identify the appropriate chemical compounds that interact with a target in the body, usually a protein, to produce the desired effect. Yet, with thousands of known proteins and millions of chemicals, this process is both highly expensive and time-consuming to conduct experimentally. With a supercomputer, the processing is quicker, cheaper and more efficient – and results in a more comprehensive approach.
 
Team leader Jerome Baudry explained, "Before, we threw away a lot of information because molecules did not have a preferred profile. Now, every molecule can be examined without worrying about wasting resources."

[Representation of a chemical compound (gray spheres) connecting with a targeted protein (red ribbons). (Source: ORNL)]
 
Read more on how ORNL is advancing the work of U.S. supercomputers.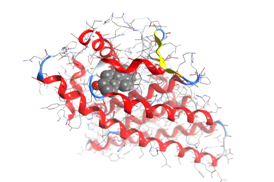 ---

Scientists at Sandia National Laboratories and Pacific Northwest National Lab are working on ways to build better lithium ion batteries. The team found that the thin, nano-sized wires in these rechargeable batteries writhe and fatten as lithium ions flow in during charging. Over time, this damages the electrode materials. To view first-hand the impact of recharging and using lithium ion batteries, the scientists used a special transmission electron microscope to set up a miniature battery. This way they were able to image small wires of about 200 nanometers in diameter.
 
[Representation of a nano-sized battery as lithium ions travel through, recharging the battery. (Source: PNNL)]
 
Check out this video of the nanowire as lithium ions flow through it. After many recharges, the electrode materials develop tiny defects and shape changes. In fact, the lithium ions change the tin oxide, which comprises the wires, from neat crystal arrangements to amorphous glass material.

Building off this work, the team plans to image what happens when a miniature battery is repeatedly charged and discharged and hope to develop a fully functioning non-sized rechargeable battery.
 
Learn more about how PNNL and Sandia are building better batteries.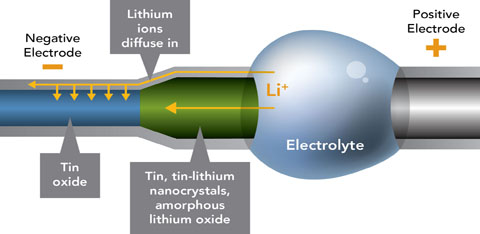 Niketa Kumar is a Public Affairs Specialist with the Department of Energy