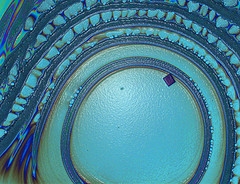 An optical micrograph of a polymer film that self-assembles into ordered nanoscale structures. | Photo Courtesy of Argonne National Laboratory
At Argonne National Laboratory, scientists have developed a technique that may lead to more efficient, lower cost solar energy technologies. Argonne nanoscientist Seth Darling and chemist Jeff Elam have engineered a method using molecular "stencils," officially termed sequential infiltration synthesis (SIS). Building off a popular lab technique for materials synthesis (atomic layer deposition), SIS allows scientists to construct materials with more complex geometries using a film of block copolymers as a template.
Why are the block copolymers crucial to this technique's success? Simply put, each block copolymer is composed of two chemically distinct subunits (ex. one subunit attracts water and the other repels). When like seeks out like, the subunits create a heterogeneous matrix of interspersed homogeneous regions, forming complex geometries and new types of materials.
Elam explains the potential for developing advanced solar technologies, "Our solar energy future does not have a one-size-fits-all solution. We need to investigate the problem from many different angles with many different materials, and SIS will give researchers like us many new routes of attack."
Check out how Darling and Elam developed these molecular stencils.
---
In gamma-ray news, GRETINA has arrived. As the most sensitive gamma-ray detector ever built for studies of the nucleus, GRETINA is now being assembled at Berkeley Lab. Eventually, GRETINA's seven detector modules will expand to a full 30 modules comprising GRETA, an even more powerful Gamma-Ray Energy Tracking Array.
I-Yang Lee, who heads the GRETINA program, and his team will be spending the rest of 2010 assembling the detector and conducting a variety of rigorous engineering tests. By spring 2011, GRETINA is expected to be able to undertake its first nuclear experiments.
Watch Lee and his team assemble GRETINA:
Detectors use large crystals to absorb the gamma rays that reveal nuclear shapes and structures. Each gamma ray absorbed by a crystal emits a signal that's picked up by the system's electronics. Yet, the largest crystals that can be grown commercially are too small, so small that gamma rays can fly right through them. GRETINA's solution: pack numerous crystals close together in each module so that a gamma ray can still be tracked even if it enters a neighboring crystal.
Once the engineering tests have been completed, GRETINA will move to the Berkeley Gas-Filled Separated (BGS) which studies nuclei of heavy elements. Lee explained how GRETINA advances the capabilities of BGS, "We'll be able to perform the best gamma-ray spectroscopy of heavy element 102, nobelium, element 103, lawrencium, and element 104, rutherfordium."
After its work at BGS, GRETINA will hit the road and spend six months each at Michigan State University, Oak Ridge National Lab and Argonne National Lab before returning to Berkeley in 2013.
Read more on GRETINA and how it works here.
---
For the first time, scientists have trapped and stored atoms of antimatter. The ALPHA collaboration, an international team of scientists working at CERN, recently reported the results of 335 experimental trials, each lasting one second, in which researchers recorded 38 antihydrogen atoms held in trap for almost two-tenths of a second.
The challenge to trapping antimatter atoms: During experiments, these atoms touch ordinary-matter walls millionths of a second after forming. The instantaneous conversion to energy and other particles completely destroys the antimatter atoms.
The ALPHA way: The collaboration designed a magnetic bottle called a Minimum Magnetic Field Trap that includes an octupole magnet. The magnet keeps anti-atoms away from the walls and prevents them from annihilating. During the trials, as soon as the magnet's capacity was quenched, trapped anti-atoms were released and their subsequent annihilation was recorded by silicon detectors.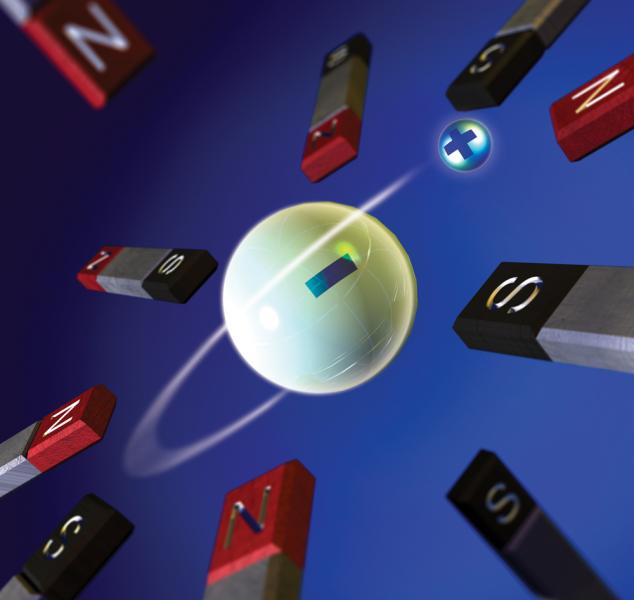 Artist's impression of an antihydrogen atom, a negatively charged antiproton orbited by a positively charged positron.
| Photo Courtesy of: Katie Bertsche
As ALPHA team member Joel Fajans noted, the collaboration is continuing to improve the number and length of time these atoms can be held. Ultimately, the team will be able to conduct experiments on the antimatter atoms towards revealing how antimatter differs from ordinary matter.
Learn more about how to make and store antihydrogen here.