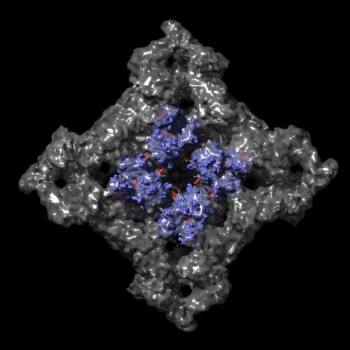 On the ryanodine receptor above, grey portion represents low-resolution information about the entire receptor. The high-resolution structure is show in blue, where each sphere represents a single atom. Mutations are identified in red | Photo Courtesy of Filip Van Petegem/University of British Columbia)
At Brookhaven National Lab, scientists have engineered an alternative fuel-cell electrocatalyst which minimizes the wear and tear on platinum that occurs during stop-and-go driving while also reducing the amount used of this pricey component.
In conventional fuel-cell catalysts, changes in voltage that occur during stop-and-go driving trigger oxidation and reduction cycling, which in turn damages the platinum. Over time, the platinum dissolves, causing irreversible damage to the fuel cell.
In an effort to solve this problem, BNL chemist Radoslav Adzic and his team developed a catalyst comprised of a single layer of platinum over a palladium nanoparticles core. These catalysts underwent stability tests that simulated 100,000 cycles. After this test, the new catalysts revealed little damage to the platinum and reactivity remained high – over 60 of its original reactivity.
The team also experimented with a palladium-gold alloy core which, after 200,000 cycles, retained nearly 70 percent of its reactivity. Compared to simple platinum-carbon catalysts which retain about 30 percent of their reactivity, these catalysts offer a promising advancement.
Learn more about what BNL is doing to improve fuel-cell electrocatalysts here.
---
Scientists at Lawrence Berkeley National Lab (LBNL) have developed a low cost alternative to thermoelectrics which can funnel excess heat from an energy inefficient system, such as car engine or power plant, and turn this otherwise wasted heat into electricity.
Jeff Urban, Deputy Director of the Inorganic Nanostructures Facility at LBNL's Molecular Foundry Jeff, explained, "Historically, high-efficiency thermoelectrics have required high-cost, materials-intensive processing. By engineering a hybrid of soft and hard materials using straightforward flask chemistry in water, we've developed a route that provide respectable efficiency with a low cost to production."
And here's how they did it: Urban's team wrapped a polymer that conducts electricity around a nanorod of tellurium – creating a nanoscale composite material. This material is easily spin cast or printed into a film. Moreover, the hybrid material has a thermoelectric figure of merit thousands of times greater than either the polymer or nanorod alone.
As UC Berkeley Professor Rachel Segalman discussed, this development significantly advances efforts to find thermoelectric materials that require low-cost, low-intensity processing. Read about this innovative hybrid thermoelectric here.
---
By applying the intense X-rays from SLAC National Accelerator Laboratory's Stanford Synchrotron Radiation Lightsource (SSRL), researchers from University of British Columbia have identified detailed locations of 57 mutations that cluster on a key part of the ryanodine receptor, a protein associated with calcium-related diseases.
Under normal circumstances, ryanodine receptors in the heart send regular pulses of calcium to the rest of the cell, while in the skeletal muscles these receptors send pulses based on how often the muscles contract. However, mutations cause premature releases of calcium and extra electrical signals within the cells. In the skeletal muscles, this can lead to a fatal rise in body temperature under certain anesthetics or the failure of major muscles. In the heart, it can lead to sudden cardiac death.
University of British Columbia principal investigator, Filip Van Petegem, noted, "Thanks to the technological capabilities at SSRL, we were able to rapidly screen hundreds of crystallized samples of this receptor protein to find the ones with the best quality, giving the best structure. This study is a good first step toward design new molecules that could be used as a drug."
Check out how the SSRL helped Van Petegem and his team here.
---
Niketa Kumar is a Public Affairs Specialist with the Office of Public Affairs