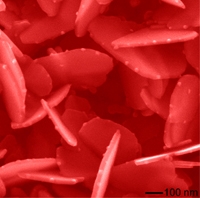 Nanoparticles grown under the irradiation of high-energy X-rays | Source: Argonne National Lab and Carnegie Institution of Washington
A team of scientists from Argonne National Laboratory and the Carnegie Institution of Washington has succeeded in "watching" nanoparticles grow in real time. The discovery could lead to improved performance of nanoparticles in applications such as solar cells, chemical and biological sensors and diagnostic imaging.
How did Sun and his colleagues watch the nanoparticles grow? Put simply, they borrowed a cup of sugar from their next door neighbor.
Argonne's Center for Nanoscale Materials adjoins the lab's Advanced Photon Source (ASP). When the electron microscope, the usual method for observing nanoparticles at the atomic level, didn't work the team used ASP's high-energy X-rays to reconstruct the earliest stages of nanocrystals second-by-second.
Check out how the X-rays did the trick.
---
Idaho National Laboratory and Washington State University scientists have partnered to develop a cheap, energy-efficient way to use bacteria to turn one man's waste into another's plastic. Using bacteria, these scientists have developed wood-plastic composite boards with the same mechanical properties as those produced with petroleum-based plastics.
David Thompson, the INL biochemical engineer who worked on this project, explained that bacteria will ferment sugars and alcohols for energy and string the molecules together into polymers. These polymers are actually types of plastics called polyhydroxyalanoates (PHA).
While this approach to developing plastic has been explored in the past, it was always considered too expensive for commercial application. To reduce the cost, the INL-WSU team decided to fatten the bacteria on free wastewater instead of expensive refined sugar. They used wastewater from a brewery in California, a municipal treatment plant in Idaho and a pulp and paper mill in Ohio. Once the bacteria had packed on enough plastic pounds to nearly double its weight, the INL scientists killed the bacteria, dried it and shipped it off to WSU, where it was mixed with sawdust and molded into composite boards.
Read more on the team's innovative approach to waste-to-plastic products here.
---
Next month, Bonneville Power Administration (BPA) and Mason County Public Utility District (PUD) No. 3 will install wireless devices on water heaters in 100 homes throughout Mason County, Washington. The devices, which can communicate with the electrical grid and the region's wind farms, will help balance supply and demand of renewable energy in the area and reduce congestion during times of high use.
As consumption level across the grid rises and falls, water heaters in participating homes will turn off and on. This pilot project will also test how the water heaters respond to changes in wind power supply. The water heaters will serve as energy storage units, storing heat during times of excess wind and, with insulation, maintaining the water for when the wind supply drops off.
Jay Himlie, Power Supply Manager for PUD 3, discussed the savings potential for this technology, "Reducing electricity use during peak hours can be a money saver for Mason County PUD 3 and our consumers. It reduces the fees a utility has to pay for their peak power demand. It's really exciting to help pioneer this technology in the Pacific Northwest."