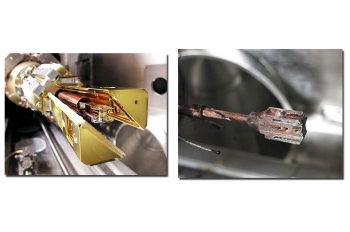 Before and after the shot: to the left, the target is mounted in the cryogenic positioning device, two copper-colored arms form a shroud around the cold target to protect it until they open five seconds before a shot. At the right, the remains of the target assembly.
The National Ignition Facility (NIF) recently completed its first integrated ignition experiment – using a 192-beam laser system to fire one megajoule of laser energy into its first cryogenically layered capsule – raising the drive energy by a factor of 30 over previously conducted experiments. The successful completion of the test means NIF, the world's largest and highest-energy laser system, will move forward with the next phase of its campaign to culminate in fusion ignition tests.
Built as a part of the National Nuclear Security Administration's (NNSA) program to ensure the safety, security and effectiveness of the nuclear weapons stockpile without underground testing, NIF's laser system is expected to be the first to demonstrate reliable fusion ignition – the same force that powers the sun and the stars – in a laboratory environment.
Says NNSA Deputy Administrator for Defense Programs Don Cook: "NIF is an example of what the NNSA labs do best. We are bringing together the best minds in science, engineering and technology to solve some of the nation's greatest challenges. With NIF, the nation has a critically important asset that supports our national security priorities, pushes the frontiers of science and discovery, and carries the potential for critical advances in energy security."
Learn more about NIF at https://lasers.llnl.gov
---
Pacific Northwest National Laboratory scientists and proteomic experts Dr. David Koppenaal and Dr. Ljiljana Paša-Tolic are busy studying soybean root hairs and their response to changing climate conditions. Observing the response of the soybean root hair cells to variations in temperature and water availability, the team hopes to gain a better understand the impacts of climate change on plant root physiology and ultimately help improve programs to create plants better suited for bioenergy production.
---
Scientists at the Environmental Molecular Science Laboratory (EMSL) are working on an electron roadmap – tracking the charge transfer of electrons across molecules – in order to create a computational model to predict how the electrons will move from one side of a molecule to another.
Having such a map of the electron freeway could lead to more effective applications of ultrafast molecular logic gates, molecular switches, molecular wires, and organic photovoltaic-based solar cells – improvements that would help make commercial energy technologies more efficient and lower cost. Learn more >