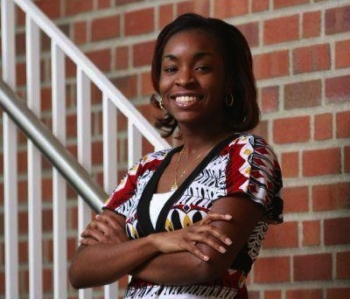 Morgan State alumnus and PNNL electrical engineer Jewel Adgerson | Courtesy of Pacific Northwest National Laboratory
Last week in honor of Women's History Month, we told you about Marie Curie, a pioneer in research on radioactivity and the first woman to win a Nobel Prize. Today we are highlighting another woman of present-day science, electrical engineer and Morgan State University alumnus Jewel Adgerson. Today, Secretary Chu visited Jewel's alma mater to learn more about the school's great work and talk about the importance of science, technology, engineering and math education to American competitiveness. 
Morgan is a well-respected school, especially in the disciplines of Science, Technology, Engineering and Mathematics. In fact, it's first in the state of Maryland for the number of science and engineering bachelor's degrees awarded to African Americans.  "Sure I always broke things," laughed Jewel Adgerson. She's an electrical engineer at the Department of Energy's Pacific Northwest National Laboratory (PNNL), who was educated at Morgan State University.
 
Jewel grew up in the Baltimore region wanting to know how things worked. She said she was constantly taking apart small gadgets like cell phones and learning – or at least trying – how to put them back together. (Yes, she consulted the manuals, but only when she was really stuck.) And it was during a 6th grade field trip to the campus that she decided to pursue an engineering degree at Morgan State.
The Department is working with Morgan and other Historically Black Colleges and Universities to promote STEM education, including through the Department's Minority Educational Institutions Student Partnership Program. Morgan is also a partner in the Department's Energy Innovation Hub, which is focused on making buildings more energy efficient.
Jewel said she wouldn't trade her experience at Morgan for anything; that the School of Engineering's tight-knit community became almost like a family. Her professors, she said, were constantly looking to provide students new, up-to-date experiences in the labs, and were constantly focused on the goal of building students' careers.  
Jewel cheerfully acknowledged studying hard -- "bustin down the books," -- and admitted that there were tough days along the way, even in some of her electronics classes. But she persisted. One reason was her engineering friends at Morgan, who helped one another get through. An even bigger reason was her mom.
"My mom…is my hero," Jewel said. Her mother's parents did not finish high school. But her mom finished high school shortly after having a baby (Jewel's older sister), completed nursing school, and worked as a licensed practical nurse to support Jewel and her two siblings. Jewel said on the bad days, "Having [my mom's] support is what really got me through."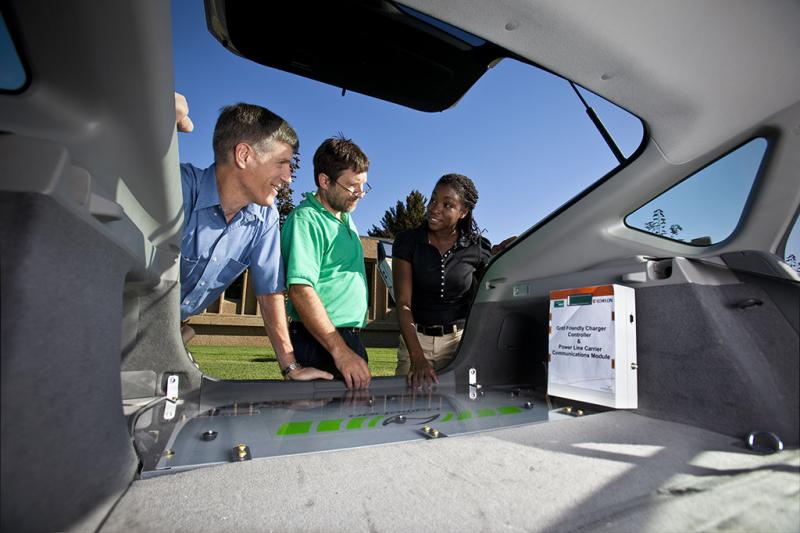 Jewel Adgerson and her team examine the controller inside the Pacific Northwest National Laboratory's plug-in hybrid test vehicle | courtesy of Pacific Northwest National Laboratory
Jewel is determined to pass on that encouragement. She's passionate about building up the next generation of scientists and engineers through STEM education, especially students at Historically Black Colleges and Universities, Hispanic Serving Institutions and Tribal Colleges and Universities. As she noted, "We have a lot of people who are ready to retire. They can't save the world. The next generation needs to come up with some answers. We need people who are interested, who are passionate, who are determined to solve those problems."
 
She's in good company at the Department and its National Labs, with scientists and engineers who share that goal. Jewel's childhood interest has become a career. And thanks to Morgan State, she has gone from breaking small gadgets to helping make the world a better place.
 
You can find more information on the Department's Office of Science site.