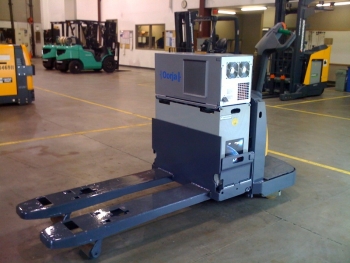 Baldor Specialty Foods relies on fuel cell technology from Oorja Protonics to power lift-trucks like the one pictured above, refueling takes less than one minute | Photo Courtesy of Oorja Protonics.
Baldor Specialty Foods, located in the Bronx, New York, has a mission—to provide the finest and the freshest seasonal produce from local farms in the northeast region of the United States and from around the globe. Established in 1991, Baldor has two locations and a successful online ordering system that covers all of New York City and the greater Boston area and is committed to meeting the highest quality standards.
So what keeps Mike Muzyk, Baldor President, up at night?
The thought of all that fresh food going to waste. And the fastest way for that to happen? Not being able to transport it from the warehouse to the store floor.
Enter Oorja Protonics, a fuel cell manufacturing company located in Fremont, California. Founded in 2005, Oorja Protonics has developed a fuel cell that uses a common, readily-available liquid fuel, methanol. Today, Oorja Protonics provides fuel cells for the material handling industry, including 50 lift trucks at Baldor Specialty Store.
Oorja's fuel cell operates as an on-board battery charger for the lift trucks and the sensors keep the vehicle's battery at a constant state of charge. By eliminating the need for battery swapping and rapid charging, these fuel cells ensure food is transported swiftly and efficiently. Refueling takes less than one minute, improving productivity and supplying enough power for an entire shift.
"Baldor Foods is excited to be working with Oorja to help us achieve our corporate sustainability goals," said Muzyk. "We are very impressed by the technology, as it is environmentally-friendly and will also help us save costs and improve productivity."
The Energy Department's Office of Energy Efficiency and Renewable Energy funded efforts that helped develop the components that go into the fuel cells that power these lift trucks. By funding the demonstration of a limited number of fuel cell lift trucks, the Department helped establish the viability of these products, which has ignited a new market and led to the deployment of hundreds of lift trucks at several locations across the United States.
Working in conjunction with National Renewable Energy Lab (NREL), the Department has been analyzing the performance of Oorja's fuel cell lift trucks at grocery distributors around the country, including Unified Grocers in the Western United States, Earp Distribution in Kansas City, and Testa Produce, in Chicago. So far, Oorja data has shown that their fuel cell powered lift trucks can operate for 14 hours -- more than double the autonomy of a battery powered lift truck. In addition, fuel cell powered lift trucks avoid deep discharges —- extending battery life by 50%.
What does this mean for grocers around the country and businessmen like Mike Muzyk? Fresher products... and a good night's rest.
For more information about fuel cells, visit the Office of Energy Efficiency and Renewable Energy's Fuel Cell Technologies Program.