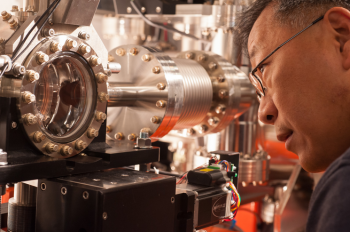 SLAC staff scientist Yiping Feng examines a chamber at LCLS' Front End Enclosure, where a thin crystal spectrometer is installed to measure the shot-by-shot characteristics of X-ray laser pulses. | SLAC National Accelerator Photo by Matt Beardsley
Sometimes science fiction (or Internet memes) give the public an unrealistic impression about the things capable in science. On other occasions, it seems like the Energy Department employs legions of mad scientists. Here's a quick list of the craziest things our researchers do with lasers to understand our physical world, and the conditions that formed planets and stars.
Generating more energy in a trillionth of a second than the United States
In July, the National Ignition Facility at Lawrence Livermore National Lab delivered more than 500 trillion watts and 1.85 megajoules of ultraviolet laser light – or 1,000 times more power than the United States uses at any instant in time. It was a record-breaking laser shot that created the extreme conditions, usually only present in developing stars.
Capturing individual atoms
Usually when physicists are firing lasers at stuff, the target doesn't hold up very well (see "Creating the hottest material on the planet"). Secretary Chu had a different idea. In the 1990s, he developed a method to trap atoms with lasers. The laser light function as a thick liquid, called "optical molasses," which slows atoms. This method won him a Nobel prize in Physics, and opened a deeper understanding of the physical behavior of gases at low temperatures.
Vaporizing rocks on Mars
The Mars rover Curiosity touched down on the Red Planet in August outfitted with more than a ton of scientific equipment, including a rock-vaporizing laser. With the ChemCam, developed by Los Alamos National Lab, technicians can target a spot on a rock of interest, vaporize that small section with the laser, and a camera determines the composition based on the color of the flash. 
Creating material on Earth that's hotter than the center of a star
What do you think of when you think of giant laser? Some might say Death Star, but I think of SLAC's Linac Coherent Light Source, the most powerful x-ray laser on our planet with scalpel precision. Because of the incredibly short wavelengths of its X-ray light, SLAC's giant laser is a one-of-a-kind tool for studying the ultra-small world of atoms and molecules. Earlier this year, SLAC researchers aimed their ultra-fast pulses of x-ray at piece of aluminum foil, reducing it to a speck of solid plasma that, for less than instant, registered 3.6 million degree Fahrenheit. Their experiment has already helped them to understand what happens in the hearts of stars and planets.
Fighting a worthy foe with your – laser cat
According to the Internet, cats not only like to play with lasers (as in laser pointers), they can also be one (as in death rays). Probably made most popular by the crew at Saturday Night Light, I'm here to confirm that technology to convert your average feline into a "Laser Cat" stands firmly on the side of science fiction. 
However, if this technology did exist, its inventor would likely have take their cues from the impressive facilities at SLAC National Accelerator Lab, Lawrence Livermore National Lab, or Los Alamos National Lab that provide us a look into nascent solar systems, fledgling stars, and neighboring planets.