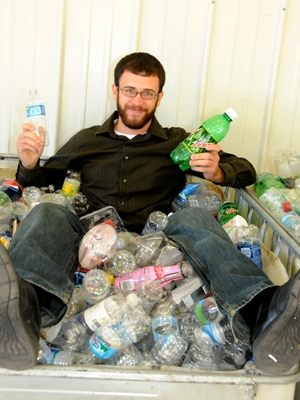 Kevin Crosby, Taylor University's first coordinator of stewardship and sustainability, promotes environmental awareness among students, faculty and staff. | Photo courtesy of Andrew Ketchum, The Echo |
Not long ago Kevin Crosby was an engineering major and the president of Taylor University's student environmental club, Stewards of Creation. 
Now with recommendations from his thesis in hand, the environmental science master's degree candidate is the Upland, Indiana, university's first coordinator of stewardship and sustainability.
"I've found a way to pursue my passion and use my engineering skills," Crosby says of the jump from student leader to paid staffer.
A $24,680.50 Energy Efficiency and Conservation Block Grant from the Department of Energy through the Recovery Act is funding half of the University's planned energy efficiency and sustainability upgrades.
Upgrading facilities
About 50 percent of Crosby's role entails working with the facilities management department to implement physical and equipment changes that drive energy savings. This includes adding recycling bins, upgrading lights and installing variable frequency drives (VFDs).
VFDs conserve energy by modulating the frequency of the electricity powering motors used by the buildings' heating and cooling systems.  And currently, Crosby is overseeing the installation of five variable frequency drives (VFD) in the dining hall and three in the chapel/auditorium. 
Crosby estimates that the drives will save about $19,000 and 280,000 kWh of electricity a year.  "Our expected payback period is about 2.5 years," he notes.
"A lot of the drive motors that are in buildings and other devices are 'on' or 'off'; they run at 100 percent or they don't run at all," he explains. 
VFDs allow the motors to run at less than full power.  "It's like switching from an up/down switch on a wall to a dimmer switch.  When you install VFDs, no one should be able to tell except for the fact that the motor won't be running as loud," he notes
Behavior is key
When he's not working with facilities managers, Crosby educates students and staff about the impact they have on the environment and encourages behavioral shifts such as turning off lights or taking shorter showers.
On the job since July, Crosby says the most exciting aspect of his work is the support of the school's administration and the broader educational community. 
"The president, vice presidents and deans are on board with the sustainability initiative," he says. 
Crosby sees outreach as part of his role and recently met with counterparts at a number of Indiana university to discuss ways to collaborate on sustainability and energy savings. He notes, "There's a lot of momentum in higher education."