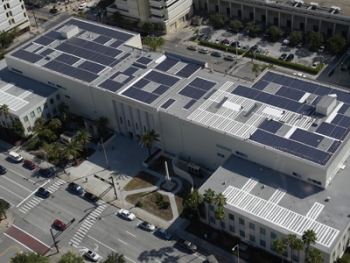 Eco Technologies, Inc., hired eleven workers to install these solar panels at the Hillsborough County judicial center. | Photo courtesy of Hillsborough County
After Eco Technologies, Inc., received a contract to install solar panels at Hillsborough County, Fla.'s judicial center, company president Andrew Tanner realized a larger staff was needed to complete the project.
So Tanner hired 11 additional crew members and trained them in basic solar-panel installation. The new crew members have been working at the judicial center since early July to install a196 kW photovoltaic solar energy system that is projected to generate 40 percent of the building's power and save Hillsborough County $60,000 on annual electricity costs.
From construction to solar
One of Eco Technologies' new hires is Nickolas Narcio, a former construction worker from Flint, Mich. who began looking for work in April 2010 after being discharged from the U.S. Air Force.
Eco Technologies hired him for his construction background – even without any experience in solar. Narcio received on the job training in solar panel installation – something he sees a future in. And he is optimistic about the value of his new skill-set.
"Green technologies are an emerging market in this country, and I think there is value in knowing how to do what I do," says Narcio. 
Solar in the "Sunshine State"
The entire project is being funded by $1 million of an Energy Efficiency and Conservation Block Grant Hillsborough County received through the American Recovery and Reinvestment Act of 2009.
In addition to increasing Eco Technologies' workforce, the project has buoyed the Sarasota-based company's reputation as a purveyor of green technology services.
"This project is very unique in the solar field because we are working with light solar panels that fully adhere to the roof instead of having to be mounted," says Tanner. "The project has enhanced our reputation, and since we started work in July, we've landed several other large projects."
Solar technology
The panels that Eco Technologies' employees are installing at the judicial center are FlexLight Solar Laminate PVL panels. The panels are manufactured by Uni-Solar, which is headquartered in Rochester Hills, Mich. Unlike conventional solar panels whose weight and rigid form require them to be mounted on separate fixtures, FlexLight panels are thin and flexible and can attach directly to a roof of a building with an ethylene propylene copolymer adhesive-sealant.
Randy Klindworth is the energy manager for Hillsborough County and has overseen the entire project for the county. He says the panels provide several distinct advantages.
"One of the most important aspects of these panels is that they attach directly to the roof and don't require any roof penetration, which is very important in Florida" says  Klindworth. "Putting holes in a roof in Florida will inevitable cause problems in the future."
The panels can also stand up to 150 mph winds, an important feature in a region often threatened by hurricanes and tropical storms.
The judicial center, which was constructed in 1952 and served as Hillsborough County's main courthouse for 50 years, currently provides offices for the Florida State Attorney and is the home of the Law Library for Hillsborough County.
According to Klindworth, Hillsborough County has been hit hard by the recent economic downturn and is looking for projects and initiatives that can save the county money in the long run. 
"We couldn't have undertaken this project without the EECBG grant," he says.