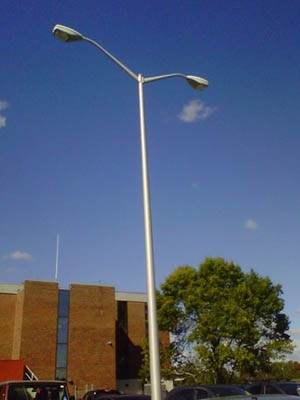 New sodium lamp lights at Strafford County's courthouse parking lot are expected to save the county $6,000 on energy bills annually. | Photo courtesy of Strafford County
New sodium lamp lights at Strafford County's courthouse parking lot are expected to save the county $6,000 on energy bills annually. | Photo courtesy of Strafford County |
The parking lot to the county courthouse and nursing home facility in Strafford County needed new lights.
Although the parking lot was well lit, the numerous lighting poles produced a yellow, dusty light.
Using some of their $252,000 Energy Efficiency and Conservation Block Grant (EECBG), the county invested in new sodium lamp lights for the parking lot.  With new lights and 14 fewer poles, the county is saving $6,000 on energy bills annually.
"The light is brighter and whiter," says Ken Robichaud, assistant to the city administrator. "It's able to cover more area, and allowed us to strategically eliminate some light poles."
He also notes, "Before, we had a lot of lights and a lot of poles. The light was yellow and hazy, and the replacement bulbs—which blew out quickly—were hard to find. Now, the lights are brighter and we haven't changed a single bulb since we installed them almost a year ago."
More than parking lot lights
The county spent around $35,000 of their $252,000 in Recovery Act funding for the parking lot project, and is currently using $80,000 in EECBG funding to retrofit doors in the nursing home portion of the facility.
The nursing home has nearly 215 residents and more than 300 employees. Robichaud estimates that the county spends nearly $75,000 on energy bills a month at this complex.
The county installed double insulated glass doors into each unit of the nursing home, replacing the 40-year-old single pained glass from the building's construction.
So far, residents seem pleased with the renovation.
"They love it," says Robichaud. "It's easier for them to open doors and it's a lot brighter. Residents are saying they feel warmer, and there's no draft coming through."
The remaining $137,000 will be spent in the future to revamp the nursing home's aging boiler heating system.  
"We're looking forward to realizing more saving as we move forward with these projects," says Robichaud. "If we can reduce our costs and energy spending, that reduces the overall budget and helps tremendously. There's a big trickle down effect."
Editor note: This story was updated on October 13, 2010 to correct energy savings.