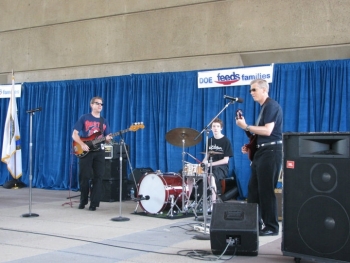 Deputy Secretary Daniel Poneman and his band "Yellow Cake" at last year's Feds Feed Families event. | Energy Department photo
Please come and enjoy the Department of Energy (DOE) Feeds Families Festivals featuring the Deputy Secretary's Band, "Yellow Cake," fun-filled activities, and discounted lunches! The events will be held at the Forrestal Building on August 4 from 11:00 a.m. – 2:00 p.m., and at the Germantown Building on August 11 from 11:00 a.m. – 2:00 p.m.! Please bring non-perishable food items to help feed families in the DC metropolitan area.
On August 4, the cookout will be on the patio near the Forrestal Cafeteria. Those who bring in 10 non-perishable goods or make equivalent pledges will receive a discounted lunch for the low price of $5.25 from the menu featuring new items and BBQ classics. In addition, you will have the chance to dunk one of our special guests – Michael Kane, Neile Miller, leaders from other agencies – and me! Look for posters in your area for more details. There will also be special seating, on a first-come first-serve basis, for individuals who make donations of at least 15 non-perishable items. Come enjoy the events and have lunch with your colleagues!
On August 11, 2011 we plan to have a cookout on the patio near the Germantown East Lobby or near the Germantown Cafeteria with additional details to come.
The DOE Feeds Families Festivals will host numerous games such as a sculpture contest, using canned goods to create the best design. Additionally, you can participate in the DOE vs. NASA contribution kick-off. There are a host of other fun-filled events in store for DOE employees to help alleviate human hunger and suffering in the United States.
Last year, OPM set an ambitious goal for the Department of Energy. While we knew reaching our goal of 38,485 lbs. of non-perishable goods would be a challenge, we also knew of the enormous capacity of DOE employees from all corners of the country to assist those in their communities afflicted by hunger. As a result of your efforts, not only did DOE succeed in reaching its goal, it exceeded it by 300 percent with 120,014 lbs. of donations! With success come greater expectations. For this summer's campaign, which will conclude August 31, OPM has set the Department of Energy goal at 132,000 lbs. The overall Federal goal is 2 million lbs.
I am once again pleased to serve alongside Michael Kane as the Department's co-chair and I'm excited about building on the generosity that all of you demonstrated last summer. DOE Headquarters co-champions, Kimberly Rasar and Rauland Sharp, are assisting me in this year's campaign. I hope that each of you becomes personally involved in this very important campaign. If you are interested in getting involved, I ask that you contact Kimberly Rasar (Kimberly.rasar@nnsa.doe.gov) or Rauland Sharp (rauland.sharp@hq.doe.gov).
For more information, please visit www.fedsfeedfamilies.gov. Thank you in advance for your support in ensuring that thousands of Americans do not go hungry this summer.