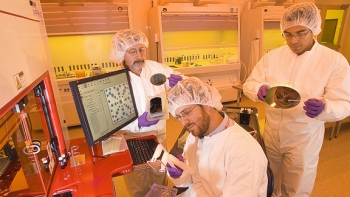 Whether producing simple metallic pads for probing exciting new nanoscale systems or structuring more complicated geometries into silicon and other materials, nanofabrication lies at the heart of much of the work at Brookhaven's Center for Functional Nanomaterials (CFN). Inside the nanofabrication facility are three bays filled with state-of-the-art equipment available for use by the CFN staff, the Brookhaven community and all external users. | Photo courtesy of Brookhaven National Laboratory.
"To see what is in front of one's nose needs a constant struggle," observed George Orwell. Yet great insights often come when those efforts are made. That's particularly true for the Energy Department's Nanoscale Science Research Centers (NSRCs) and their efforts in scanning probe microscopies. 
Scanning probes – which include scanning electron, scanning transmission and others – allow scientists to see incredible details at astonishingly small sizes; to visualize materials at the nanoscale, the level of molecules and even individual atoms -- where chemical reactions happen and atomic bonds are broken and remade. Understanding what is happening at that level could allow scientists to build up new materials with needed and desired properties. 
But visualizing materials at the nanoscale -- much less doing anything constructive with them -- is tough. So to study those materials and develop their full potential, the Energy Department set up five unique NSRCs as national scientific user facilities. Each of them contains the big high-tech tools needed -- the clean rooms and computing capabilities and sophisticated microscopy tools -- for doing the science of the extremely small and make these capabilities available to researchers from universities, national laboratories, and industry to accelerate progress in this competitive field. 
That's a lot of potential from the NSRCs, especially since scanning probe microscopies are just one aspect of their efforts. Those possibilities are being explored and developed thanks to the commitment of researchers across the Energy Department, who are constantly struggling to see the small but amazing things right in front of their noses.