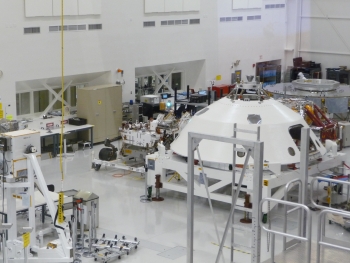 Curiosity, left, at NASA's Jet Propulsion Laboratory in Pasadena, California, in late November 2011. Shown here is the flight hardware that was being assembled prior to shipment to Cape Canaveral Air Force Station in Florida for the launch. | Photo Credit Dr. Robert C. Nelson
Before the Mars rover Curiosity could tweet from the Gale Crater, it was assembled by a stellar group of scientists and experts from around the country.  
Dr. Robert C. Nelson in the Office of Environmental Management at the Energy Department is one such scientist. A Senior Technical Advisor and Chief Safety Officer in the Office of Safety, Security, and Quality Programs, Nelson was among the scientists and experts who helped assemble Curiosity, the rover that descended on Mars for a mission to assess environmental conditions for microbial life.
Nelson eagerly monitored Curiosity's descent on Mars on August 6. Like the rest of the Curiosity team, he waited anxiously during the "seven minutes of terror," the period the NASA team used to describe the rover's landing on the Red Planet. The night before, he stayed up late to watch reports from NASA's Jet Propulsion Laboratory in Pasadena, California, delayed by the 14 minutes required for the radio transmissions to travel from Mars to Earth.
Since 1985, Nelson has served as an appointed ad hoc member of the Interagency Nuclear Safety Review Panel (INSRP). This panel serves the Executive Office of the President to review the risk involved with any launch of significant amounts of radioactive material into space. Curiosity included a nuclear battery containing Plutionium-238 as a heat source, requiring such a review. Each of the nuclear reviews by the panel is unique since each nuclear battery, or Multi-Mission Radioisotope Thermoelectric Generator (MMRTG), is designed to withstand the environment of its destination.
Curiosity's exploration adds to a long list of missions — including Galileo, Ulysses, Cassini, Pathfinder and New Horizons — Nelson has reviewed as a member of the panel. He had served as the coordinator for the U.S Department of Defense during approval of the Galileo mission and worked as a member of the Biomedical and Environments Effects Subpanel. Nelson recalls working on the safety evaluation report for the Galileo and Ulysses missions with a group around a conference table when they were interrupted by these instructions: "Turn on the TV; the Challenger just exploded."
Nelson continues to follow the New Horizons mission to Pluto. Launched in 2006, Pluto New Horizons is not scheduled to reach the vicinity of Pluto until mid-2015.
Nelson's work demonstrates the crucial role of the Energy Department in interagency collaborations. The Idaho, Los Alamos, Oak Ridge and Sandia National Laboratories, along with the Energy Department's Offices of Nuclear Energy and Environmental Management, played crucial roles in assessments and the development of parts for Curiosity that enabled its success.