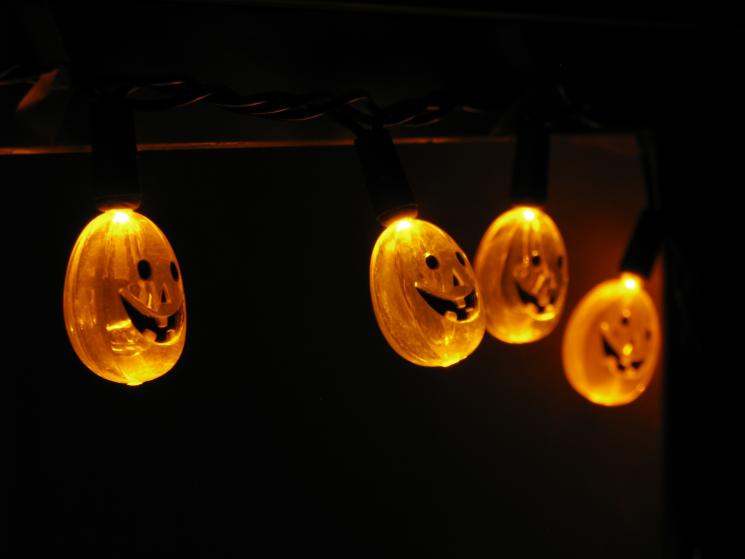 Halloween LED lights are a common, energy efficient decoration. | Photo courtesy of Jeremy Roof, Creative Commons.
Halloween revelers young and old will take over their neighborhoods at an early witching hour tonight. Illuminated jack-o-lanterns will smile (or glare) from stoops. Porch lights, street lamps and lights strung from porches will flicker to provide a safe cover for pedestrians. With all these lights on, there's little wonder how Halloween fits strikingly well within the broader theme of energy efficiency.
Trick-or-treaters and their chaperones in towns from Pocahontas, Iowa, to Fort Fairfield, Maine will enjoy better visibility with brighter streetlights at a lower cost tonight. By using funds from the Energy Efficiency and Conservation Block Grant program, many municipalities have replaced traditional incandescent street lights with brighter, longer-lasting light-emitting diode (LEDs) lights. Obviously it's not just once a year that municipalities are actively attempting to lower their energy consumption. LEDs are energy efficient choices when lighting paths, pumpkin patches, or the pumpkins themselves with their long-lasting glow.
 
In the same spirit, compact fluorescent bulbs on porches indicate to youngsters there's a treat awaiting them when they sound the door bell. When participating households open the door and place a sweet in the baskets, bags or plastic pumpkins, they could very well be handing over treats that required less energy to produce than several years ago.
 
Candy is typically produced through complex manufacturing processes. Hershey's Kisses actually got their name from the sound the machine produced when spitting out each individual piece of candy. Though it has been a long time since the first kiss dropped onto a conveyor belt, since 2007 at least, Hershey's has implemented extensive energy consumption audits at their processing facilities. Processes that gave the candy its name now consume less energy. Other confectionary companies like Nestle and Jelly Belly have implemented similar energy saving manufacturing tricks when producing their treats.
 
Whether you are out trick-or-treating tonight, bobbing for apples or enjoying a hayride, there are constant reminders of energy efficiency in our daily lives – and many are the things we may not notice. This All-Hallow's Eve take a moment to appreciate the ways we save energy while you lead the way with an LED torch or heat your apple cider with your ENERGY STAR stove.