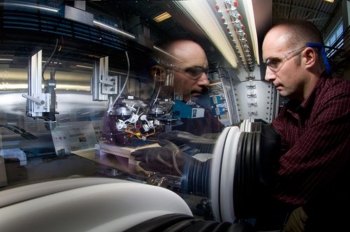 National Renewable Energy Laboratory research scientist Robert Tenent is helping incorporate thin-film design and manufacturing processes to improve the performance and drive down the sticker price of electrochromatic windows and make the product more accessible. | Photo courtesy of NREL.
Energy.gov will be hosting a live video chat with Dr. Kathleen Hogan, deputy assistant secretary for energy efficiency, this Wednesday at 2 PM ET.
A range of industries make up the clean energy economy. One of those elements is energy efficiency, something that may not seem that flashy or significant at first glance, but is quietly spurring innovation while cutting costs and saving jobs across the country.
In fact, industry leaders are increasingly turning to innovative energy efficiency techniques to reduce energy bills and produce more affordable products. 3M is a prime example of this, having established an Annual Energy Recognition Program in 2003 in an effort to boost employee participation and recognize groups who make significant strides in helping their facilities cut energy consumption. This effort has led to the launch of over 1,900 employee-inspired projects, resulting in a 22 percent improvement in energy efficiency and yielding $100 million in savings in just four years. Those savings not only reduce the price of consumer goods, but the company's impact on the environment as well.
Savings like that mean the world to the 2,200 employees at Volvo's New River Valley plant in Dublin, Virginia. As the recession hit and demand for parts began to slow, the plant needed to identify opportunities for substantial savings or risk having the plant shuttered and their jobs sent overseas. Instead of looking toward layoffs or pay cuts to reduce costs, the plant's manager Patrick Collignon zeroed in on ways to reduce their energy consumption.
Ultimately the plant adopted the aggressive goal of reducing their energy costs by 25 percent in just one year. By tapping into the resources and experts available through the Energy Department's Save Energy Now LEADER initiative, they were able to implement a wide-range of energy saving measures that ultimately helped them meet their goal and achieve a 30 percent reduction in energy intensity. All told, the energy efficiency projects that Volvo undertook at its NRV plant in 2010 have helped the company realize cost savings of approximately $2 million and allowed them to remain the largest employer in southwestern Virginia.
Those savings keep people employed and allow companies to innovate, but they also have a direct benefit for many consumers as well.  Products that cost a lot to manufacture naturally tend to sport a higher price tag, limiting the segment of consumers who can afford to purchase them. This often inhibits the adoption of innovative technologies, or drives up costs on essential products. One of the ways to drive down that sticker price and make a product more accessible to the general consumer is to cut down on energy costs during the production process. That's exactly what REC silicon has done for photovoltaic (PV) solar panels. Through the use of their innovative Fluid Bed Reactor, they've been able to develop a process for refining a key material in PV solar panels, polysilicon, using 90% less energy than conventional methods.  
This breakthrough has not only allowed them to double their capacity and hire more workers, but it's also helped to lower the cost of solar panels, making them more accessible to consumers. Those savings will ultimately help the solar industry expand and increase its market share, illustrating how segments of the clean energy economy often interplay and grow together.
For more information on how energy efficient technologies and techniques are driving down costs and saving jobs, check out the stories on our energy efficiency page.