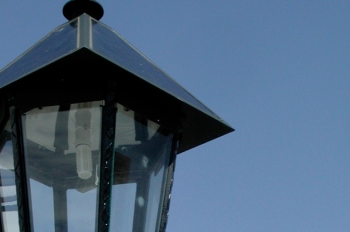 This is one of the 100 decorative solar-powered LED lights that replaced natural gas-powered streetlights in the city of Deming, New Mexico. | DOE photo
The New Mexico state motto, "Crescit Eundo," which is commonly interpreted as "it grows as it goes," is particularly descriptive of the savings achieved by local governments in the state with help from the Energy Efficiency and Conservation Block Grant program, funded by the Recovery Act.
By saving energy, municipalities can save money on their energy bills – money which can then be used for other public services.
Grady, New Mexico, population 98, received $431,908 in EECBG stimulus funding to install a 16 kW solar system for its senior center, the largest electricity user in the village. This cut its monthly electric bill by 75 percent.  
The city also installed a 65 kW wind turbine to provide electricity for the village office and municipal water pumping, which alone accounts for 9 percent of the town's budget. The savings will help keep two positions funded: the village clerk/treasurer and a part-time assistant clerk.
The town hopes to lure some additional small businesses with economic development incentives tied to the new renewable energy systems.
Silver City and Grant County each received EECBG funding as well, and pooled resources to establish an Office of Sustainability. The office coordinates energy efficiency, conservation and renewable energy activities, and it helps nearby mining towns that have no capacity to address these issues.
One new Sustainability Office program focuses on a neighborhood blitz approach to fixing energy leaks, especially for households with seniors, persons with disabilities and those earning less than the median income. The program has made a real difference in energy bills for more than 400 homes in the county, saving an average of $165 a year per household, for a combined annual savings of over $66,000. Each household served conserves an average of 11 million BTUs annually.
In Española, $451,680 in EECBG funding and supplemental funds of $145,990 were used to install a geothermal heating and cooling system, computer-controlled thermostats, and an air handling system in City Hall. These actions cut the city's heating and cooling bills by 50 percent. The upgrade also had an unexpected benefit in February 2011 when New Mexico experienced its coldest weather in 40 years, resulting in a failure of the state's natural gas distribution system.
At the peak of the crisis, more than 30,000 homes, businesses and government buildings were without heat for up to a week. Española City Hall was the only government building in the area that had heat during the crisis.
In the past two years, EECBG grantees have upgraded public buildings across New Mexico, from a new HVAC system in the Art Deco-style Quay County Courthouse in Tucumcari, to a 90kW solar panel array on the roof of the Clovis Convention Center.
Deming, New Mexico, used some of their EECBG funds to convert 100 decorative natural gas-powered streetlights that operate 24 hours a day with solar-powered LED lights, which produce all of their own electricity.
From the state's capital to the smallest villages, the Recovery Act funding has freed funds for public services, saved local citizens money and helped change the way localities think about energy efficiency.