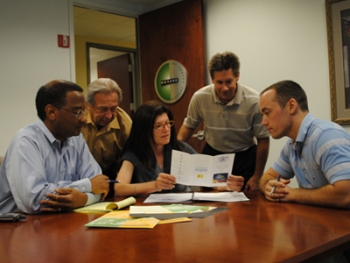 Judith Mondre meets with members of the Mondre Energy team. | Photo courtesy of Judith Mondre
Judith Mondre spent the past two months learning the ins and outs of Upper Darby Township, Pa.'s energy usage.  She's analyzed energy bills, observed town facilities and interviewed staff to put together a plan to help the municipality reduce its total energy usage. 
Upper Darby received a $695,600 EECBG grant through the Recovery Act to study its energy use and set conservation goals but needed the energy expertise of an outside consultant to put a strategy in place. Mondre Energy stood out in a competitive selection process and won a contract to help plan and implement energy efficiency and conservation strategies for the township.
In fact, her in-depth knowledge of local government, PECO energy rebates and legislation helped her stand out among the respondents to Upper Darby's request for proposal.Mondre began her energy career as the start-up executive director of the City of Philadelphia's Municipal Energy Office in 1992.  Back then she piloted Light Emitting Diode (LED) programs and other energy initiatives that are now considered best practices.  Now as the president of her own 14-person firm, she helps other municipalities reach their energy efficiency, job creation and carbon reduction goals. 
"We were really looking for a consultant who could identify problems in a boiler room and explain solutions in a boardroom," says John McMullan, the town's assistant director of community development.
Raising awareness
Upper Darby accepted her proposal and into boiler rooms she went. 
The Mondre Energy team visited every town facility from ballparks and community centers to firehouses and libraries to see its energy usage in action. While there, they interviewed the people who occupied those buildings to find out who uses the energy, how often and for what purposes. They also analyzed a year's worth of electric, oil, gas and water bills to fully grasp the situation.
The impact of the investigation was immediate.  Even before the formal results of the study were presented in July, staff became more diligent about powering down computers and turning out lights in unoccupied rooms. 
"Just from the consultants being on site, it made the staff begin to think about the ways they are currently using energy and ways they could improve on it," McMullan says.  "I personally learned more about this township than I ever would have otherwise."
Lasting results
One thing is certain: The town will replace incandescent traffic signals at approximately 25 intersections and about 70 street lights with the more energy-efficient LED variety. 
This upgrade was the cornerstone of Upper Darby's grant proposal and the town had previously begun making the switch in low and moderate income areas, helped by a Community Development Block Grant, part of an annual allocation from the Department of Housing and Urban Development.  The Department of Energy grant allows them to make the change town-wide and town officials expect the replacements to reduce energy costs by about 10 percent annually. 
Cost savings and environmental benefits are great. Mondre is also pleased that her work will allow municipality to save money and use those savings elsewhere. "It's wonderful to be green financially and environmentally," she says.