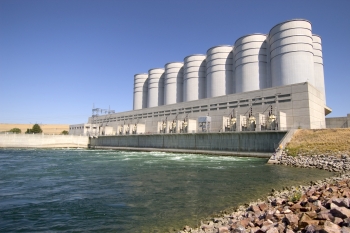 The Oahe Dam in South Dakota (pictured here) is one of the federal hydropower resources operated by the Western Area Power Administration. As part of a recent tribal leader dialogue, officials from the Energy Department, the Western Area Power Administration and South Dakota tribal leaders discussed ways to lower energy costs for tribes, including options for receiving federal hydroelectricity directly from the Western Area Power Administration instead of from third-party utilities. | Photo courtesy of South Dakota state government.
The plains of the Dakotas are as beautiful as they are sometimes harsh. The Sioux Tribes that have inhabited the rolling plains and spectacular badlands of South Dakota have faced high energy costs in recent years -- costs that sometimes represent a disproportionately large portion of a family's total income.
To help the South Dakota tribes explore strategies for providing more affordable energy for their members, the Energy Department convened a tribal leader dialogue -- with officials from the Western Area Power Administration -- last week in Rapid City, South Dakota. The discussion focused on strategies for addressing tribal energy infrastructure issues and accelerating clean energy development on tribal lands while growing their economies and creating good jobs for tribal members.
When I took office three years ago as director of the Department's Office of Indian Energy, I fully committed to partner with Indian Country to identify and better address tribal priorities. This spring, Standing Rock Sioux Tribe's Chairman Archambault and I agreed to convene a meeting on tribal utilities and the prospect of updating federal hydropower options to better serve tribal needs.
As preference customers, the Dakota tribes are eligible for federal hydroelectricity marketed by the Western Area Power Administration, but currently, they receive that power through third-party utilities. The dialogue included details regarding the upcoming hydropower reallocations process as well as a presentation from an Arizona tribal utility, which receives its hydropower directly, helping to lower electricity prices for its tribal members.
We invited all of the South Dakota tribal leaders to join the conversation. The response was a standing-room-only turnout of leaders from every South Dakota tribal nation, all of whom contributed to a lively discussion -- helping to identify best practices and sharing lessons learned in this evolving area of tribal public-private partnerships.
This gathering reflects the Department's commitment to providing expert and targeted technical assistance to help existing and prospective tribal electric utilities to reduce electric utility rates, deliver clean energy to communities, improve the level of service and provide local jobs. In the last six years, the Department has supported numerous South Dakota tribes with financial assistance for renewable energy development as well as renewable energy training.
In addition to opening up opportunities for economic development, these types of dialogues and initiatives also signify our commitment to doing what we can to mitigate the serious threat of climate change in Indian Country. We approach this daunting task with a dual focus on improving infrastructure resilience while better preparing tribes to weather the impacts that are already wreaking havoc on communities too often located at the end of the electric grid.
With strong support from President Obama to expand opportunity in tribal communities, an abundance of untapped tribal renewable resources and demonstrated commitment from the Energy Department to accelerate energy development on tribal lands, tribes are uniquely positioned to lead on the energy front. Last week's developments in South Dakota mark a new milestone on the path to a cleaner, more secure energy future for Indian Country.
If your tribe is considering developing a tribal electric utility, or has already begun to do so and is seeking assistance, the Office of Indian Energy wants to hear from you. We may be able to help. For more information, please visit Energy.gov/indianenergy or email us at IndianEnergy@hq.doe.gov.