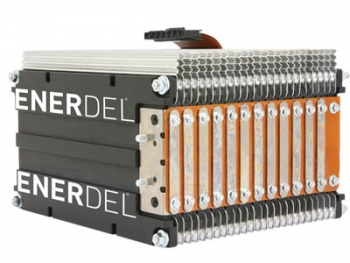 EnerDel is expanding its Mt. Comfort-based factory to produce advanced lithium-ion batteries such as this.| Photo courtesy of EnderDel
"We really do like Indiana as an operating environment because it's pro business," says Jeff Seidel.
And for Mt. Comfort, Ind., that's good news. 
Seidel is the CFO of Ener1, the parent company of EnerDel, which makes advanced lithium-ion batteries used for electric vehicles, grid energy storage and consumer applications. 
EnerDel is expanding its Mt. Comfort-based advanced lithium-ion battery manufacturing plant, a project estimated at $237 million, partially funded through an $118 million Recovery Act grant.  The project is supported through the Electric Drive Vehicle Battery and Component Manufacturing Initiative and was named by the Vice President as one of the top 100 Recovery Act projects changing America.
Strong talent pool
Before the grant was implemented, EnerDel had 136 full-time, salaried employees. Just nine months later, the company has reached 178, and expects to end this year with 212 employees.

"Ener1's three Indiana facilities are located in an area rich with automotive and engineering talent and experience," says Seidel.  "We continue to attract new talent to the company, as existing and new employees recognize the huge growth opportunity for next generation lithium-ion technologies, which will ultimately change the way we consume, transport and store energy."Opportunities have also increased for hourly employees.  The company began this year with 88 hourly employees, and is forecasting to have 201 before December.
When production reaches its peak, Seidel projects that nearly 1,400 jobs will be created. Most will be in manufacturing—including machine and equipment operation. 
Local supply chain
While EnerDel is expanding its numbers, Seidel also expects to see a number of jobs created in surrounding suppliers.
"When we mapped out the grant, we really mapped all the suppliers that work on providing us with components and parts in the U.S. It's really a defined vertical belt running from the top of the Midwest into the South," says Seidel.
As EnerDel grows, their suppliers will need to grow to meet these new product demands. "Building out the supply chain has a multiplier effect on job creation, which will effectively create jobs across the entire manufacturing belt," he says.
This project highlighted in the Vice President's report on 100 Recovery Act Projects That Are Changing America