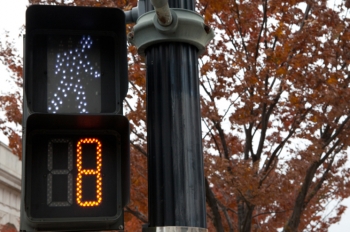 Installing LED pedestrian and traffic lights like this one are among the improvements made by cities in New Hampshire to cut their energy costs. | DOE photo, credit Hantz Leger
Every fall, tens of thousands of visitors flock to New Hampshire to gaze at the famously dazzling array of natural colors on display in the state's fields and forests.
This fall, New Hampshire received several visitors more interested in the state's numerous energy efficiency projects, supported by Energy Efficiency and Conservation Block Grant (EECBG) funds.
In Concord, the state's capital, Energy Department project officers examined local energy savings and performance projects contracted to ConEdison Solutions. The newly installed LED pedestrian traffic signals and energy-efficient lighting and lighting controls at several city-owned buildings will help the city consume 282,655 fewer kilowatt hours of electricity and 699 fewer therms of natural gas – saving the city more than $41,500 annually.
About an hour's drive southeast from Concord, other EECBG grantees are developing solar technologies to offset current traditional electricity generation.
The small community of East Kingston received a $300,000 Energy Efficiency and Conservation Block Grant award to offset the cost of installing a 60 kW solar array at the East Kingston Elementary School.
Revolution Energy, the installation contractor, worked with the school and town under a Power Purchase Agreement (PPA) to complete this solar project, which is relatively large for the area.  Under the PPA, Revolution Energy maintains the arrays for six years and sells the power to the town at a contracted rate. After six years, the town owns the system and the power.  Though it only went online in May, projections indicate the array will generate 81,000 kWh annually.
In a slightly larger town across the state, Chesterfield used EECBG funds to install a 17.64 kW solar photovoltaic system at the town highway garage. The system, comprised of 72 solar panels and 3 inverters, went online in Dec. 2010 and to-date has generated more electricity than the garage has consumed.
In Lebanon, home of Dartmouth Medical School, the energy efficiency improvements are not limited to buildings. The city's government partnered with two local non-profits to create Smart Commute - an EECBG-funded program designed to reduce the environmental impact of commuters in the Route 120 corridor between Hanover and Lebanon. The area has many of the Upper Valley region's largest employers, such as Dartmouth-Hitchcock Medical Center and Hypertherm, a cutting tool manufacturer.
Smart Commute developed incentives, engaged employees, and upgraded bike and pedestrian trail infrastructure to raise awareness about alternate commuting options.
In just the first year, Smart Commute has seen:
Carpooling rise from 11 to 15 percent, which means about 150 new carpools were formed, with estimated fuel savings of over 312,000 gallons of gas and estimated cost savings of over $1.1 million.
Transit use rise from 5 to 9 percent among employees at participating companies.
Employers help their employees change their commute patterns as gas prices rose.
Overall, this means about 540 fewer cars on the road every day, contributing to reduced traffic, fuel savings and better air quality.
Providing energy efficiency upgrades to public buildings and improving transportation networks, New Hampshire is using Recovery Act funds to embrace energy efficient technology and conservation to generate electricity and save money.
You can find more information on EECBG projects in New Hampshire here