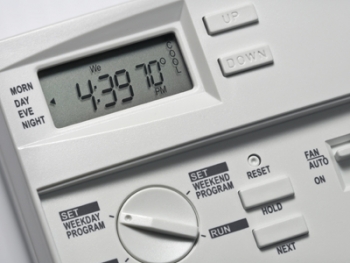 A portion of Glendale, Arizona's Energy Efficiency and Conservation Block Grant was used to purchase programmable thermostats. | Department of Energy Photo |
City officials in Glendale, Ariz. had a problem.
Citizens were constantly asking them for information on how to reduce home energy consumption, but they did not have a staff member to answer the questions. 
That changed in June 2009, when the city hired Nancy Schwab to be the official energy education specialist.
"We had so much demand for information that we could no longer afford to ignore it," says Jo Miller, Glendale's environmental program manager.
The position was created using part of a $2.3 million Energy Efficiency and Conservation Block Grant (EECBG) through the American Recovery and Reinvestment Act. The money also funded the city's purchase of 6,000 energy savings devices, such as programmable thermostats and CFL light bulbs.
Conserving and learning
Not only will Schwab give Glendale residents these devices over the next year, she will provide every household in Glendale with information on how to reduce personal energy consumption. She plans to develop a series of adult classes on subjects such as how to install solar energy panels and landscaping homes for energy efficiency. She will also help launch a website where Glendale citizens can find information on best practices for energy use and make regular contributions to the city's "Clean and Green" newsletter.
One of her priorities during year one will be to launch Watt Watchers, a comprehensive education program that will integrate baseline knowledge of energy consumption issues into the sixth grade science curriculum used by Glendale's schools.
"This is a worthwhile project because our world's future depends on the choices our children will make, and by teaching children about energy conservation we have a better chance of reaching their parents and getting them to pay attention to how their behavior affects energy usage," says Schwab, who taught elementary school for 25 years prior to her current position.
Watt Watchers
Schwab is modeling Watt Watchers on Water Watchers, another education program currently used by Glendale schools to teach fourth, fifth and sixth graders about water conservation.
In order to participate in the program, students will have to get permission from their parents, and Schwab hopes this will encourage parents to seriously examine their personal energy use practices. Between 80-90 percent of Glendale's students participate in the Water Watchers program, and Schwab believes Watt Watchers can be equally successful.
"My experience in the classroom will help me develop lessons that resonate with students and effectively communicate with adults about ways to reduce energy use and improve home energy efficiency," she says.