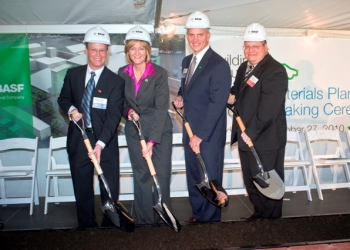 Randy Turk, Elyria Site Manager; Rep. Betty Sutton (OH); Frank Bozich, President Catalysts, BASF and Patrick Davis, DOE Program Manager participate in groundbreaking ceremony for BASF battery materials plant in Elyria, Ohio | Photo Courtesy of Nat Clymer Photography, LLC |
Last week, I traveled to Elyria, Ohio (not far from Cleveland and the Rock and Roll Hall of Fame) to celebrate the groundbreaking of BASF Catalysts, LLC's new cathode material production facility. Thanks to support from the Recovery Act, this facility will put Ohioans to work building components for the advanced batteries that will power the vehicles of the future.
Representing the Department of Energy, I was pleased to share the stage with Frank Bozich, President of BASF's Catalyst Division, Betty Sutton, U.S. Representative for Northeast Ohio, and William Grace, Mayor of Elyria. BASF Catalysts, LLC received a $24.6 million grant from the Vehicle Technologies Program under the Recovery Act. With matching funds from BASF, this project totals $49.2 million.
The facility will be capable of producing 2,500 metric tons per year of nickel-cobalt-metal cathode materials, a critical component of lithium-ion batteries. This technology is licensed from the Department of Energy's Argonne National Laboratory, and will decrease the cost of batteries, while improving their safety and power. When the plant is fully operational in 2012, it is expected to be the most advanced cathode materials production plant in North America. The operation of this facility will also create 30 new engineering and technical positions.
Last August, President Obama announced $2.4 billion from the Recovery Act for 48 new advanced battery and electric drive projects, including BASF. Collectively, these projects will boost our domestic manufacturing capacity and help the United States lead in the advanced batteries and vehicles industry.
In addition to creating jobs, these investments will create real benefits for Americans. Advanced hybrid and electric drive vehicles will provide Americans with cleaner and more fuel efficient options while also safeguarding us from fluctuations in oil prices.
I enjoyed my time in Elyria and look forward to seeing the production lines in operation.