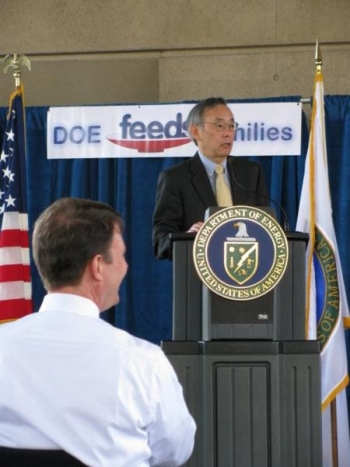 Secretary Chu and John Berry (foreground) at the Department of Energy Feds Feed Families Event.
This summer, John Berry, Director of the White House Office of Personnel Management, began the second Feds Feed Families Campaign. Fresh off an enormously successful inaugural campaign last summer, when Federal employees and contractors donated over 1,000,000 lbs of goods, Director Berry raised the bar for all of us—OPM gave Feds and Contractors the daunting task of raising 1,200,000 million lbs of non-perishable items during a summer Feds Feed Families Campaign to run from June 7th to September 14th.
Director Berry asked the Department of Energy to Co-Chair the Federal wide effort, and I was honored that our own Chief Human Capital Officer Mike Kane, invited me to serve alongside him as the as co-chair of the Department's Feds Feeds Families Campaign. This campaign took on even greater importance because summer is a season when food-banks traditionally see a drop off in donations. Unfortunately, this drop off coincides with thousands of disadvantaged children across America not having access to free lunch as they do during the school year.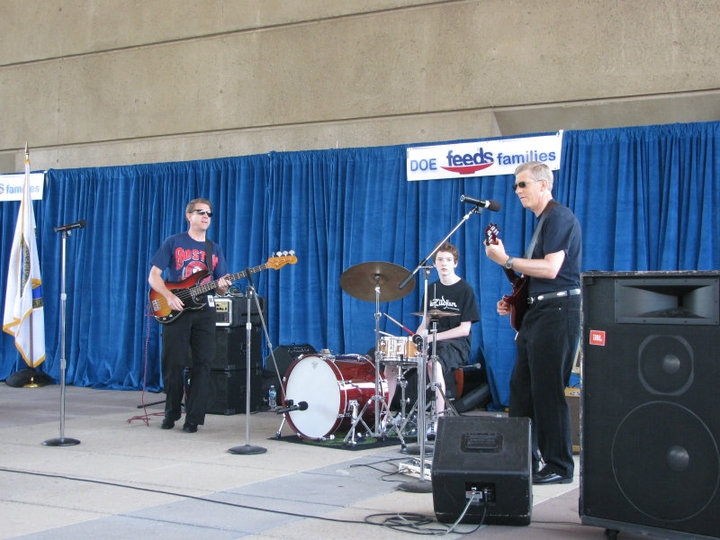 Deputy Secretary Poneman and his band "Yellow Cake" performing at the Department of Energy Feds Feeds Families Event
OPM set an ambitious goal for the Department Energy to raise a 38,485 lbs share of the Federal Government's overall goal.  While we knew this would be a challenge we also knew of the enormous capacity of DOE employees to assist those in their communities afflicted by hunger.  As a result, not only did DOE reach its goal of 38,435 lbs, it exceeded it to the tune of 300% with 120,014 lbs of donations, replenishing food-banks here in the Washington D.C. area and throughout the United States.
I also would like to thank Secretary Chu for his leadership, and I particularly would like to thank DOE employees and contractors for helping to feed thousands of families this past summer.