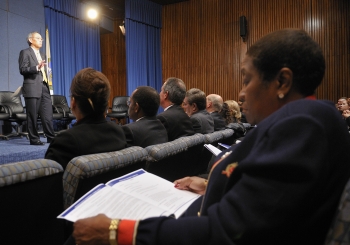 Secretary Chu speaks at the Workforce Diversity and Inclusion Town Hall on December 6, 2011. | Energy Department file photo.
The Energy Department held a Workforce Diversity and Inclusion Town Hall event on December 6th, delivering on Secretary Steven Chu's commitment to promoting a culture that strongly values diversity and inclusion.
"For our own good, we want as wide of a talent pool as we can get," Secretary Steven Chu said in his remarks to employees. "[Diversity] is a good thing and an important thing to do. It's also the right thing to do."
 
The Secretary's thoughts echoed the findings of a series of recent focus groups, in which more than 1,200 federal employees were interviewed. The results of the focus groups indicated that the Energy Department values a culture of collaboration, inclusiveness, and fairness and believes these traits are important to allowing the Department to become an employer of choice. As Associate Deputy Secretary Mel Williams noted, promoting a diverse workplace environment helps allow employees to reach their full potential and make an even greater contribution to the success of the Department's mission.
 
In addition to remarks given by senior leadership, the town hall also featured a panel discussion of senior Energy Department leaders that was facilitated by former Secretary of Labor Alexis Herman.
 
The Secretary was also joined by Acting Director of the Office of Economic Impact and Diversity Bill Valdez and Chief Human Capital Officer Michael Kane, who unveiled the steps that the Department is taking to improve diversity throughout its workforce.  Among them:
The development of a Diversity and Inclusion Action Plan;
The establishment of a Workforce Diversity and Inclusion Council;
The launch of the Continual Learning Program's Leadership Learning Module on diversity and inclusion;
And the development of new communications initiatives, which promote diversity and inclusion successes at the Department.
During his remarks, Kane also delivered an impassioned call to action for employees: "Tell us what you think. Tell us what we're doing well. Be a part of the solution and together we can make this a success."
 
You can find more information about the Department's diversity and inclusion initiatives here.