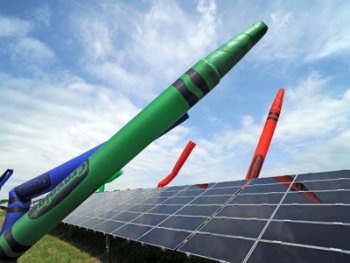 The Crayola solar farm became fully operational this week. Ten children from around the country, known as the "Crayola Green Team," helped dedicate the newest addition to the Easton, Pa.-plant. Photos courtesy of Crayola. | Photo Courtesy of Crayola
The 107 year-old company is tapping into the sun's energy to make 1 billion crayons using power from the 1.9 MW solar farm behind its Easton, Pa., plant."This year, it's the greenest back-to-school ever," says Stacy Gabrielle of Crayola.
About 26,000 "thin-film" solar panels — manufactured by First Solar in Perrysburg, Ohio — are providing enough power to make a third of the 3 billion crayons the plant pumps out per year, representing 10 percent of the facility's total energy consumption.  Greenhouse gas emissions are being cut by 1,900 tons annually.
The $15 million project, funded in part with $1.5 million in American Recovery and Reinvestment Act funds under the State Energy Program, sits on a 15-acre parcel of land leased by PPL Renewable Energy, which installed the solar panels, and UGI Energy Services Inc., a regionally-focused energy marketer that Crayola agreed to purchase the energy from.
"The solar farm is wonderful testament to our commitment to sustainability," says Glenn Price, vice president of global sourcing and supply chain for Crayola. "And our customers appreciate what we are doing."
Construction of the solar farm began in November of last year and became fully operational at an unveiling ceremony this week.  Ten children from around the country, known as the "Crayola Green Team," helped dedicate the solar farm after winning a coloring contest.
Gabrielle, a company spokesperson, says the kids were excited to be part of the unveiling.
Green jobs
The project created about 25 temporary jobs at PPL and three to four permanent positions at UGI, which has recently expanded it solar development group. UGI currently has three other solar projects in the works.
"It's a good collaboration," says Louis James, a UGI senior manager. "When customers like Crayola see [solar] as viable, it puts us in a position to be very active in the [renewable energy] market."
Black is the new green
Crayola markers now have black barrels instead of white, which allows more recycled plastic to be used, giving a second life to more than 1 million pounds of plastic bottle caps. Switching to black barrels keeps also hundreds of tons of plastic out of landfills each year.
PPL, which has numerous other solar energy facilities throughout Pennsylvania and New Jersey, designed, constructed and will operate and maintain the solar farm.  PPL and UGI will and share the renewable energy credits provided by the Pennsylvania Department of Environmental Protection (PDEP).
"The Stimulus Act funding powers along with the sun and Crayola crayons, creates jobs right now to build this large solar facility, protects the jobs already at Crayola, and produces pollution-free electricity for years to come," said John Hanger, PDEP secretary, at the groundbreaking ceremony last November.
As part of the project, a solar energy educational display will be developed at the Crayola Factory in downtown Easton, which attracts nearly 300,000 visitors annually.
Pennsylvania awarded $9.5 million of SEP funds through the Green Energy Works! Solar program to eight other projects. With the help of the Recovery Act funds, the state has more than 65 MW that is either deployed or in the development stage. Prior to the Recovery Act, the state only had 4MW.