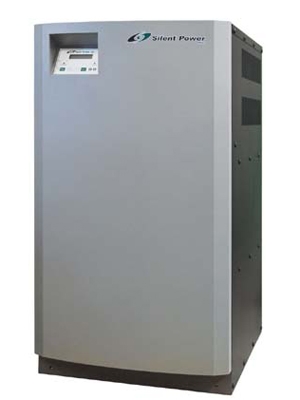 This is the silent power storage device the Sacramento Municipal Utility District intends to install in residential homes as part of its distributed solar power storage study. | Photo Courtesy of the Sacramento Municipal Utility District
The Sacramento Municipal Utility District is looking for approximately 70 homeowners with residential solar willing to monitor their energy use.
The reason: Several hundred megawatts of distributed solar are expected to come online in the next 10-20 years. And SMUD wants to plans to study how anticipated growth in residential solar could affect its electrical grid.
Under a two-year pilot project expected to launch in 2011, SMUD will distribute solar battery storage and smart meters to select homeowners who already have solar panels in their homes. The utility will study how those homeowners generate and use the residential solar energy, says Mark Rawson, senior project manager for SMUD's storage and distributed generation research.
"This research is helping us to understand how the emergence of storage technology can help us deal with much higher penetrations of solar in the future," says Rawson. "We want to have those answers in our quiver before we get to that point where it is a problem."
The project is funded through public-private partnerships and is expected to cost approximately $5.9, according to SMUD. A $4.3 million grant is from the U.S. Department of Energy through the Recovery Act.
The remaining costs are supported through the California Energy Commission. Project partners include GridPoint, SunPower, the National Renewable Energy Laboratory, Navigant Consulting, Saft America, Silent Power, and VPT Energy Systems.
Residential solar, batteries and storage
The project piggybacks on an existing SMUD offering -- SolarSmart Homes, which offers homebuyers a chance to purchase new homes with roof-integrated solar panels and energy-efficiency measures already installed. The homes in the storage project will be part of a SolarSmart development currently under construction in the Sacramento suburb of Rancho Cordova.
Unlike most SolarSmart Homes, Rawson says, 15 homes participating in the storage project will also have batteries to store the homes' own solar energy. A second group will get community-based storage -- batteries serving three transformers, each of which serve nine to twelve homes.
A control group of 25 homes will not have storage. But all three groups will have access to a special online portal that shows them their energy use, their solar production and, if they have in-home batteries, their storage status.
The storage and smart meters, which allow communications between the home and the utility, will be installed in early 2011 and field-tested for about a year.
Taking on intermittency
The data on generation, storage and energy use will help SMUD understand the opportunities and limitations of distributed solar and storage. 
Rawson notes that SMUD expects to learn which battery configuration is easier for system operators to control; the cost-effectiveness of the storage devices; and whether customers behave differently with access to storage.
It will also smooth out the peaks and valleys in solar energy created by intermittent cloudy weather. "This last issue will be very important to SMUD and other utilities in the near future," says Rawson.
He continues, "The intermittency of solar production concerns utility operators and planners who have to plan to serve our customers with reliable power. Storage may be a viable asset to help utilities deal with this issue and enable us to have much higher penetrations of solar than we're comfortable with today."