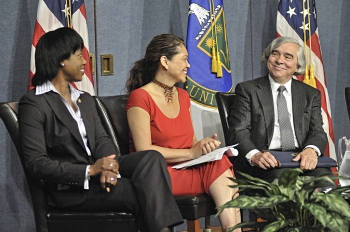 Secretary of Energy Ernest Moniz with The Honorable Dot Harris, Director of the Energy Department's Office of Economic Impact and Diversity (far left), and Sandra Guzman, award winning multimedia journalist, at the Minorities in Energy launch event. | Photo by the Energy Department.
Editor's Note: This article has been cross-posted from the White House Council on Women and Girls blog.
We are proud of the close relationship between the Department of Energy and the White House Council on Women and Girls and of our united effort to bring more women and girls into energy and science, technology, engineering and math (STEM) fields. Our country cannot be at its full strength in advancing our energy future without the participation of every talented American. I am committed to engaging all of the Department's resources to inspire, connect, and train women and girls in STEM.
One program I've championed since working at the Massachusetts Institute of Technology (MIT) is C3E, which stands for Clean Energy, Education, and Empowerment. C3E works to advance women leaders in clean energy. Now in its third year, the program's Ambassadors network, annual Symposium and C3E Awards program have recognized 12 women for their mid-career leadership and achievement in clean energy, as well as two remarkable women -- Millie Dresselhaus and Maxine Savitz -- for their lifetime achievement. The next C3E Symposium will be held at MIT in September, with a focus on cities and local-level action on climate and clean energy.
Following the success of the C3E program, I directed the Department of Energy's Office of Economic Impact and Diversity to launch the Minorities in Energy Initiative. This took the ambassadors, awards and symposium cornerstones of the C3E program and created another collaborating force, bringing government, nonprofits, industry and the public together to talk about engaging underrepresented communities -- like women and girls -- in STEM and the energy sector. We've recruited 30 high-level Ambassadors to be spokespeople for this issue from nonprofits, industry, entertainment academia and both sides of the political aisle.
The Department also works to highlight the talented women in our energy workforce as STEM role models for women and girls interested in those fields. Our Women @ Energy series features 150 profiles of women leaders from the Department and we hosted the First Annual Interagency STEM Volunteer Fair in February to connect federal employees to STEM volunteer opportunities in the Washington, D.C. area. TThe President and Vice President, along with Valerie Jarrett and Tina Tchen at the White House Council on Women and Girls and so many others throughout the Administration, are driving diversity and inclusion in STEM education and careers. The Department of Energy is supporting these initiatives to expose and incorporate more women and girls into STEM so as to further advance America's energy future. 
Click here for a fuller list of accomplishments by the Department of Energy.