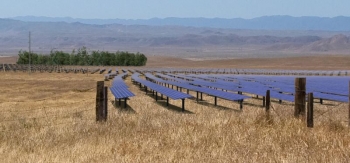 An artist rendering of what the California Valley Solar Ranch project will look like post-construction . | courtesy of SunPower Corporation
Secretary Chu just announced an offer of a conditional commitment for a $1.187 billion loan guarantee to support the construction of a new, large-scale photovoltaic solar facility in San Luis Obispo County, California.
The California Valley Solar Ranch, sponsored by SunPower Corporation, will be the largest utility-scale photovoltaic project in the country to combine tracking technology with an innovative monitoring system, which will maximize solar collection and increase annual energy output by approximately 25 percent.
The project is expected to create more than 350 jobs, produce enough energy to power 60,000 homes, and avoid more than 430,000 tons of carbon pollution each year.