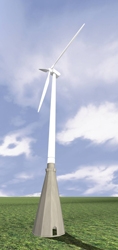 The EnergySmart Jobs program is a three-pronged approach to creating "green jobs" for Californians while also increasing energy efficiency at businesses around the state. | File photo
Today, most steel towers that support utility-scale turbines stand about 80 meters tall, but the Tindall Corporation wants to go higher using precast concrete to raise turbines over 100 meters in height to capture stronger, steadier winds -- and more energy. Everything keeps getting bigger in the wind energy industry: turbines, blades and now the towers that hold them in place.
"If you look at the history of wind turbine hub heights, they have progressively moved higher," says Chris Palumbo, vice president of business development. "We don't see that trend stopping, and steel towers have just about reached their economic limit in hub height.
"The next technology that can push hub heights higher is precast concrete. And that is what we are offering," he says.
Tindall is planning to build a concrete wind tower base manufacturing facility in Newton, Kan., with the help of a $16.7 million 48C manufacturing tax credit under the American Recovery and Reinvestment Act. According to a news release, the new plant represents a capital investment of $66 million.
"The tax credit was added incentive to proceed with this project that makes good business sense in any case," Palumbo says. "It helps because we do see a very strong market for this technology coupled with the country's need to produce as much renewable energy as possible with each turbine installation."
Construction for the new plant will begin next year and will create anywhere from 200 to 400 jobs once it is completed.
Wind speed is a critical feature, and higher altitudes mean stronger winds.  Increasing the height of wind turbine hubs by 65 feet (from 80 meters to 100 meters) could increase energy output of a wind farm (with a 30 percent capacity factor) by 20 percent, according to report published earlier this year by the National Renewable Energy Laboratory.
Weighing in at over 600 tons, the precast-concrete bases will support large-scale wind turbines, which are at 1.5 MW and up. 
Tindall, which has been designing and manufacturing precast concrete structures for buildings and parking structures since 1963, will start a pilot project for the wind turbine hubs later this year at its Atlanta plant.
Palumbo says Tindall expects the new facility to have the capacity to manufacture multiple wind tower bases a day so Tindall can match expected demand with production capability in Kansas and Atlanta.