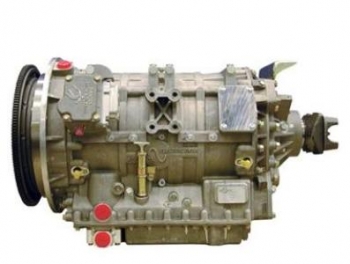 Allison's bus hybrid drive unit for transit buses can be found in 164 cities around the world. The company will use similar technology in the commercial truck hybrid system. | Photo courtesy of Allison Transmission
Allison Transmission uses $62.8 million in Recovery Act funding for commercial truck hybrid system
Project will create or retain close to 100 manufacturing-related jobs in Indiana
Hybrid systems could reduce diesel consumption by 35 percent in commercial trucks
Allison Transmission, a producer of automatic transmissions for the medium and heavy-duty vehicle markets, has produced hybrid systems for city transit buses since 2003 and assisted its former parent, General Motors, in evolving this technology for GM SUVs and pick-up trucks. Allison is now ready to tackle their next hybrid system challenge: the commercial truck hybrid.
With $62.8 million in American Recovery and Reinvestment Act funding, Allison is currently working to bring to production this hybrid system that would be available to commercial trucks. Using a parallel hybrid system architecture, Allison estimates that these vehicles—often used as pick-up & delivery trucks, utility trucks, and refuse trucks— could reduce diesel fuel consumption by 25 to 35 percent.
Commercial trucks are prime candidates for hybrid systems because of their frequent stop-and-go driving needs as in metropolitan area package delivery. When vehicles slow down or stop, the system will use an electric motor-generator within the transmission to slow the vehicle and capture much of its "kinetic" energy to convert to electricity. The electric energy is stored in an on-board battery and then re-used later to either speed up the vehicle or power vehicle equipment.
Unlike transit buses—which are often purchased by cities or counties with some federal assistance—these vehicles will have to be cost-effective for commercial truck owners.
"Allison has worked to strike a balance between the complexity of this hybrid system and the cost to provide the right value for those end-using customers," says Laurie Tuttle, vice president of Allison's hybrid programs. "This system will be commercially viable and can be readily adapted to existing vehicles."
Creating manufacturing jobs in Indiana
Although development is in its early stages, Allison plans to have three test systems in vehicles for internal use by the end of this year. Low-rate initial production will begin in December 2012, followed by a full-production start in June of 2013.
About 100 manufacturing-related jobs will be created or retained out of the grant, including everything from assemblers on the floor to engineers and program managers.
As an added benefit, Allison has collaborated with two Indiana-based companies to assist with the engineering work. Delphi, based in Kokomo, IN, and Remy, Inc., based in Anderson, IN, will be producing major components that will be used in the final system.
"We had assessed technologies all around the world, but we ended up selecting these two suppliers. There's a bit of a hybrid hotbed in central Indiana," Tuttle says.
A history of hybrids
The U.S. Department of Energy awarded Allison Transmission grants in 1999 and 2003 to assist with developing the Allison hybrid system for city transit buses.
The hybrid transit bus system is currently in 164 cities around the world and 37 States in the country. The fleet has accumulated more than 250 million miles of service and Allison estimates that nearly 13.5 million gallons of diesel have been saved as a result of their use. The hybrid buses' cleaner emissions have resulted in air quality improvements, too. Allison estimates that over 133,000 metric tons of CO2 emissions were never emitted thanks to the hybrid systems.
"The system that we have in our transit bus is superb," says Tuttle. "[For commercial trucks], we wanted to strike that balance with commercial viability so our customers could get the right return on their investment."