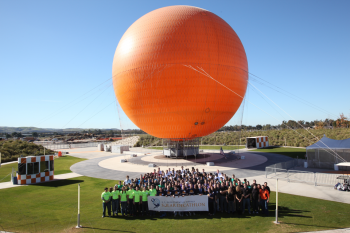 In early January 2013, Solar Decathlon teams gathered at the competition site in Irvine, California. | Photo courtesy of Stefano Paltera, Energy Department.
In 1999, I scribbled an idea on a napkin that transformed the way the Energy Department educated students and the public about money-saving technologies and design solutions. That idea became the U.S. Department of Energy Solar Decathlon -- a two-year competition that challenges collegiate teams to design, build and operate solar-powered houses that are cost effective, energy efficient and attractive.
Nearly 15 years after I first had the idea for Solar Decathlon, this year's competition will be accompanied by a clean energy exposition. Hosted alongside the Solar Decathlon at Orange County Great Park in Irvine, California, the XPO promises to be a 21st century festival of creativity and educational experiences designed to inspire children and adults alike. It will showcase technology innovations and sustainable living through fun, interactive exhibits and activities. At the XPO, visitors can experience the following:
The SunShot Innovation Pavilion is an educational trade show connecting consumers to clean energy companies, products and services, while also showcasing educational activities and booths highlighting the Energy Department's SunShot awardees and nonprofit partners.
 
The Powerful Ideas Symposium will include guest speakers and panelists presenting innovative ideas related to clean, renewable energy and its connection with the world and our everyday lives.
 
The Powerful Ideas Classroom will feature educational activities and lessons focused on science, engineering, architecture and energy for preschool through high school students.
 
The Competitors' Pavilion will showcase Solar Decathlon 2013 team colleges and universities, as well as the winners of the Department's Housing Innovation Awards and the American Institute of Architects Orange County Student Design Competition Awards.
 
The Transportation Zone will include The California Challenge -- a competition among different kinds of student-designed electric and energy-efficient vehicles in a time trial format -- and the opportunity to test drive fuel-efficient hybrids and zero emission electric vehicles.
 
The Palm Court Arts Complex will host gallery exhibitions where visitors can explore, discover and experience how art can be influenced by environment and environment by art. It will also include the Makers Depot, an exhibition exploring how 3D printing is revolutionizing the creative process across a variety of industries.
 
The Farm + Food Lab will reveal through exhibits and workshops the benefits of locally grown food and how to grow nutritious food and maintain healthy gardens.
 
The ABC Green Home will feature tours of a certified net-zero energy home.
The XPO -- along with the Solar Decathlon competition -- will be open to the public free of charge from 11 a.m. to 7 p.m. on Oct. 3-6 and Oct. 10-13. Visit www.the-xpo.org and www.solardecathlon.gov for more details. We hope to see you there!