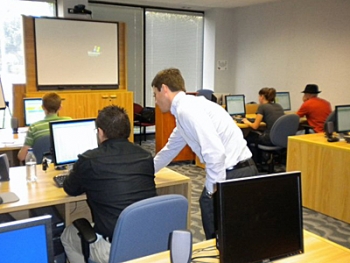 The Central Florida Energy Efficiency Alliance has started a "Kilowatt Crackdown" challenge to help reduce commercial energy use and an "Energy Specialist" program that trains college students on ENERGY STAR portfolio manager. | Photo courtesy of CFEEA
Spend a summer interning at the Department of Energy in Washington, D.C., and you're bound to start quoting Secretary Steven Chu's well-known mantra to the people back home.
"It's about the low-hanging fruit," Chris Castro, a University of Central Florida senior, now tells the facilities managers for the buildings he walks through in Orange County, Fla.  "Start with the low-cost improvements."
The advice has come in handy for Castro, who interned as a Student Ambassador at DOE this past summer.
Castro and 24 other students have been tasked to help local businesses and college campuses cut energy use, as part of a Recovery Act-funded "Energy Specialist" Program—a collaborative project between UCF and the county's Central Florida Energy Efficiency Alliance (CFEEA).  
The 12-week program is teaching them how to use ENERGY STAR portfolio manager, the software that helps manage and cut energy use, and offer up advice to facilities managers on potential upgrades in a series of classes, webinars and field work.
Switch out lighting, behavior change and temperature control: "These are things you can do first," he explains to them.
The program is in response to the county's "Kilowatt Crackdown" challenge that has over 1,670 businesses agreeing to use portfolio manager to help cut energy usage by 30 percent by 2012. The county is using part of a $7.5 million block grant awarded from the DOE to fund both the challenge and "Energy Specialist" program.
Taking inventory
When the challenge was announced last year, businesses expressed interest in getting the tool and forging ahead with any improvements. But there were hurdles to overcome, says Christina Webb, director of CFEEA.
"A lot of facilities were sold on the merits of using portfolio manager, but they would tell me, 'I don't have the resources to do it,''' she says.
A series of workshops have been going on since spring, educating businesses on benchmarking their buildings and management, but the project really needed hands-on technical assistance to take them over some of those hurdles.
This is where Castro, his college mates and the previous class of about 20 students come in.
A star tool
Students are being trained on how to use ENERGY STAR portfolio manager, the interactive management tool that allows you to benchmark buildings and track and assess energy and water consumption.
Here's how it works.  Enter in various information about the building, like square footage, energy usage, HVAC specifics, how many employees and computers, and the program spits back a score from 0 to 100, 100 being the most energy efficient. Anything over 75 is considered eligible for an ENERGY STAR rating.
"We don't have many of those yet," Castro says. "But we're working to get them there."
So far, the students have entered almost 500 buildings into portfolio manager.
This week, Castro worked his way through Millicon Hall, a UCF building where the president sits.
He and another student took a couple hours going through the building, entering in all the necessary information to generate a score. Soon, he'll sit down with the facilities manager to give him the building's score and some advice on what they can do to improve it and thus save energy.
"It was a good [walk through]," Castro says. "It's just a matter of knowing what you need to do."
Green opportunities
Making sure students "know what they need to do" is exactly what Webb and Margaret Lo, of the UCF sustainability and energy management, a partner with CFEEA in the Energy Specialist Training Program, are going for. This is more than just energy savings, they say.
 "We want to prepare the student for the green jobs that are available," Lo says. "It worked well for UCF because we are addressing a market need that was in the community."
It's prepared students to be more marketable in general, too, they both say.
"They are not being taught this type of energy management tool at the schools," Webb says. "And we are providing them the training to walk into a competitive job market and have a specialty skill set that should give them an advantage in the energy management field. We want to create instant energy Managers and grow that professional field in Central Florida."
Castro will be thrown into the workforce come December when he graduates, where he'll most likely continue to help people, school officials and business owners save energy.
"I'll always go off of what Chu says," he says. "Forty percent of total energy consumption comes from buildings. If we make our buildings more efficiently, we can make a significant impact."