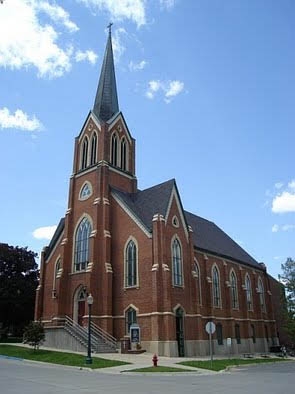 First Lutheran Church is one of three entities in Decorah, Iowa using EECBG funds. The church, one of the largest and oldest in the community, will use the funds to change out an old steam boiler system. | Photo Courtesy of First Lutheran Church
Decorah, a small town of about 8,000 people in the northeast corner of Iowa, recently received a little more than $880,000 through an Energy Efficiency and Conservation Block Grant that will be used to fund energy efficiency projects for three different organizations in the town: a college, a church and a start-up nonprofit.
The funding will be utilized by three entities in Decorah: Luther College, First Lutheran Church and Winneshiek Energy District.
Each organization will match the amount provided by the grant. "For us to help by sponsoring these projects opens the way for significant, tangible energy-saving improvements," says Decorah City Manager Jerry Freund. "This grant can double their budget, and they can get more done as a result."
The first recipient, Luther College, is a small liberal arts college in Decorah. Luther is currently in the midst of a five-year plan that would reduce its carbon emissions by 50 percent. 
In addition to being the largest employer in the city of Decorah, Luther College brings a lot of activities and programs on energy efficiency to the community, Jerry says. "There's a high level of interest in energy efficiency and sustainability, largely because of the college spreading that awareness."Luther will use the EECBG money to pursue different energy efficiency and conservation projects, including campus retrofits and installing energy usage meters, which would allow the college to track how much energy is being consuming in real-time. The college hopes to have the projects completed by the end of 2010.
First Lutheran Church is the second entity in Decorah receiving EECBG funds. The church is one of the largest and oldest in the community and houses the Decorah Area Free Clinic and the Food Pantry at First Lutheran Church.  
The church will be doing a little more than $200,000 of work on the building, and it will spend the majority of that money changing out an old steam boiler for a 96 percent efficient hot water condensing boiler system. The new system is more efficiently sized and will be controlled by an energy management system that keeps occupied spaces comfortable while not wasting energy. The church will also be installing insulation in areas where there is currently little or none.
"The congregation provides space and utilities for important civic activities and service ministries that are vital to Decorah and surrounding communities," says Robert Fitton, a member of First Lutheran Church's greening committee and a Luther College employee. "Reducing energy consumption in this socially active church will allow us to better use funds for service endeavors and also to do educational outreach to clients and congregational members who visit our facility."
The third grantee is a new nonprofit organization called Winneshiek Energy District, which will leverage money for residential and commercial buildings.
WED works to create excitement and enthusiasm about energy efficiency among community members. The group will use its funding to develop an energy efficiency cost-share program for both local residents and businesses. The program will take locals through the energy-auditing process and help guide them when selecting contactors for audit-identified improvements.
Andy Johnson, director of the WED, stresses the importance of making energy efficiency practical for all communities, saying that many people don't have a fondness for things like electrons or gas piping. However, "it's the cold beer and hot showers we want. The less purchased energy we need to provide those services and the more of our purchased energy we can provide locally, the better shape we'll be in."
Jerry hopes the projects stemming from the EECBG funding will help raise awareness about energy efficiency for Decorah citizens.
"There's a good deal of interest in this," he says. "We're quite confident in the resources that are available, and we're really hoping the community will take advantage of this."