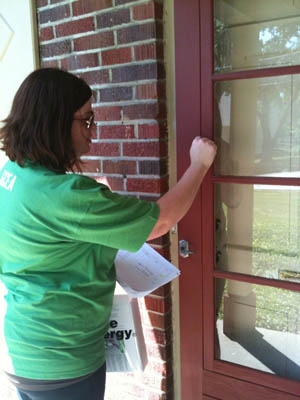 A volunteer canvasses the Mt. Washington neighborhood to spread awareness about home energy audits in the area. | Photo Courtesy GCEA
Stuart Schaefer's home sits on a quaint, tree-lined street in Wyoming, Ohio. Although he's always enjoyed the neighborhood and his house in the Hamilton County suburb, he now has reason to enjoy it even more: Schaefer recently had an energy audit done on his 80-year-old home and is saving money on energy bills by putting some of the auditor's recommendations to work.
With help from the Greater Cincinnati Energy Alliance (GCEA), resident Stuart Schaefer was able to get his home energy audited for only $50, saving approximately $300 from the average audit cost.
GCEA finances this residential energy audit program through a $1.6 million Energy Efficiency and Conservation Block Grant (EECBG) awarded to the Alliance with support from Cincinnati and Hamilton County in Ohio, and the counties of Boone, Kenton and Campbell and cities of Covington and Florence in Kentucky.
Andy Holzhauser, GCEA's executive director, says that through a combination of partnerships with local contracting companies and EECBG funds, GCEA is able to offer these discounted energy audits to homeowners in the greater Cincinnati area.
Through the program, Holzhauser sees other opportunities. "We're looking to bring contractors a significant amount of work," Holzhauser says. "This market is very underdeveloped and has great potential to be scaled."
With nearby Cincinnati State offering retrofitting and weatherization programs, the area is developing a base of skilled professionals capable of working on these energy efficiency and retrofit projects. 
Grassroots Energy
GCEA believes the message about energy efficiency benefits should be spread on a local level, through knocking on doors and facilitating discussions about energy efficiency in neighborhoods and communities.
The group recently started a canvassing initiative where volunteers go door-to-door in neighborhoods to spread awareness and educate residents about energy audits and retrofitting homes. Before GCEA canvasses a neighborhood, they sponsor an energy audit of a home in that area. Volunteers are able to use this home as an example and talking point while meeting with interested neighbors.
"You have to demonstrate the value of an energy audit and show people the benefit of the retrofit," Holzhauser says. "We're really piloting this program in an aggressive way to show this to community members."
Thirty volunteers went canvassing earlier this month in the Mt. Washington neighborhood of Cincinnati and reached 930 homes. Volunteers gave each home six free compact florescent light bulbs to more than 215 homes, and found that 66 homes were interested in a home energy audit.
Leading by Example
Mt. Washington homeowner Tim Aiken had his home audited earlier this year and served as an example in his community. "GCEA can provide the homeowner with approved contractors, manufacturing rebates and energy company rebates to reduce the costs of the work," he says. By going through GCEA, Aiken will save $1,250 on an estimated $2,500 for additional insulation in his attic. The resulting energy savings will pay for that cost in only four years.
"We need to invest in education and enhancing support to get this market moving," Holzhauser says. "The message comes best from someone within the community, someone who doesn't have skin in the game other than the greater good. They're not selling a product, they're not getting a commission, and these volunteers understand the value and can speak from a personal standpoint about the benefits."
Retrofits Galore
U.S. Department of Energy's Retrofit Ramp-Up initiative, part of a $450 million nationwide program that will help 25 communities across the country retrofit hundreds of buildings and homes. The Retrofit Ramp-Up program will allow communities to live and work in more energy-efficient buildings while creating a local workforce trained to retrofit these structures. GCEA will be using this money to further develop this program.
In July, GCEA will organize a canvass of Schaefer's Wyoming neighborhood. By auditing a house in a future-canvassing neighborhood, volunteers will have a point of reference.
"It makes it a very relevant, very real example," Holzhauser says. "It's not just someone in the region, or someone in the county. It's someone they know in their community."
Schaefer already seems to be spreading his satisfaction with the energy audit. He says he'll definitely be talking to his neighbors about the project and hopes they'll consider having their homes assessed. 
"We're all learning together about what it means to be green and save energy," he says. "You've got nothing to lose and everything to gain by doing this."
For more from Energy Empowers about GCEA's work, especially with nonprofits, read more here.