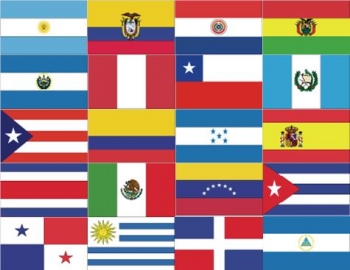 Energy Department Photo
"From the early settlers of the New World to those reaching for the American dream today, Hispanics have shaped and strengthened our country. During National Hispanic Heritage Month, we pause to celebrate the immeasurable contributions these individuals have made to our Nation -- from its inception to its latest chapters."
-- President Barack Obama in his proclamation for National Hispanic Heritage Month.
At the Department of Energy, Hispanics are helping drive innovation and build a clean energy economy. Jorge Alvarado, born in Costa Rica, has worked at Argonne National Laboratory since 1993, leading a team that works to clean up and protect the environment by developing new methodologies and cost-effective ways to quickly identify hazardous chemicals and implement remediation techniques. Monica Regalbuto, also of Argonne National Laboratory, was recently named one of the 2010 Powerful Hispanics in Energy by the editors of Hispanic Engineer & Information Technology Magazine for her research on nuclear fuel cycle technology. Inés Triay, born in Cuba, is the Assistant Secretary for Environmental Management. Triay has spent her career overseeing the cleanup of radioactive waste and facilities that housed Cold War nuclear weapon production and research activities. Dr. Dan Arvizu, son of Mexican immigrants, became the first Hispanic Director of a U.S. National Lab in January 2005 when he was appointed head of DOE's National Renewable Energy Laboratory. Arvizu is one of the world's leading experts on renewable energy.
Since Congress first authorized National Hispanic Heritage Month in 1968, we have celebrated each year the culture and traditions of Americans who identify themselves as being of Spanish-speaking background and trace their origin or descent from Mexico, Puerto Rico, Cuba, Central and South America and other Spanish-speaking countries. We begin our celebration on September 15 because it marks the anniversary of independence of five Latin American countries (Costa Rica, El Salvador, Guatemala, Honduras, and Nicaragua).