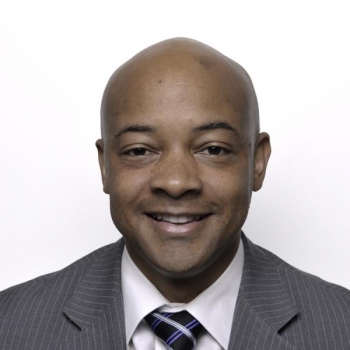 Travis Dredd
This month, we celebrate Black History Month.  Throughout February, we will introduce you to African Americans who are working to advance the President's clean energy agenda and help the Department of Energy achieve its mission. Our first profile is of Travis Dredd, Special Assistant to Secretary Chu. 
Question:  What is your key responsibility?
TD: I support Energy Secretary Steven Chu in his day-to-day activities, serve on several Interagency Working Groups and serve as a liaison with key stakeholders.
Q: Where did you grow up?
TD: I was born and raised in Southern California.
Q: What is your educational background?
TD: I earned a Bachelor's Degree in Political Science at UCLA.
Q: Are you a member of a notable community organizations, church, or volunteer/mentorship program?
TD: I spent several years working with youth at the YMCA, mentoring young leaders, developing summer -teen programs, and supporting high-school students in their efforts to become more active in government.  While in Washington, DC, I have volunteered with Greater DC Cares to help renovate local schools and create peaceful and caring learning environments for elementary aged students.
Q: During the State of the Union, the President laid out his vision for "Winning the Future" through Education, Building, Innovation, Responsibility, and Reform. How does your role in the Administration help to advance the President's agenda?
TD: My role in the Administration is all about bringing together entrepreneurs, business leaders, policy experts and thought-leaders to address our nation's energy future. This kind of collaboration brings about new innovative ideas that ultimately help to accelerate our transition to a clean energy economy.
Q: Is there a book, quote, or person that influenced you to be the person that you are today?
TD: I have always admired Desmond TuTu. As I get caught-up in my day-to-day activities, I try to remember  something he once said "Do your little bit of good where you are; it's those little bits of good put together, that overwhelm the world."
Q: What advice would you have for young people interested in your Agency?
TD: I would advise young people interested in the Department of Energy and energy issues broadly to pay close attention in their science, and mathematics classes. Once they've got that down, they should find something they are passionate about in the fields of engineering or technology. Lastly, I'd say take some small practical steps to help you educate yourself about energy. For instance, get your parents to install a smart meter in your home and begin learning about your energy habits now.