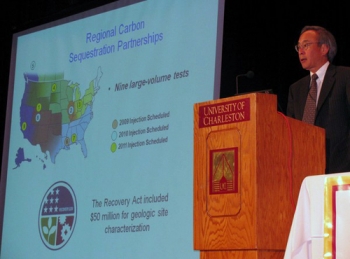 Sec. Chu speaks about carbon capture and sequestration. | Energy Department Photo
Yesterday, Secretary Chu joined Senator Jay Rockefeller at the University of Charleston in West Virginia for a forum on the future of coal and the case for carbon capture and storage. We were at the event, relaying some of the highlights live via twitter so that people across the nation could follow along and weigh in on the discussion. If you missed it, we've included the entire session below along with the Secretary's power point presentation and some pictures from the event.
The auditorium is filling up quickly as we await the arrival of Secretary Chu and Sen. Rockefeller. #CCS http://twitpic.com/2mhn23




Secretary Chu taking the stage now, fresh from his trip to NETL in Morgantown, WV. #CCS




Univ. of Charleston President Welch is in the process of delivering introductory remarks. #CCS http://twitpic.com/2mhs06




Sen. Rockefeller on NETL: "A treasure for our state. It holds more for the future of coal than any place I can think of" #CCS




Sen. Rockefeller: "The case must be made for a real solution and that's why we are here today" #CCS http://twitpic.com/2mhusw




Sen. Rockefeller: West Virginia's Mountaineer Plant "first coal fired plant to capture and store CO2 emissions on site". #CCS




Sen. Rockefeller: "People assume that China will do nothing, but they are overwhelmed with environmental problems." #CCS




Secretary Chu is beginning his presentation now, illustrating his points with a PowerPoint.




Sec. Chu: "Since the beginning of the industrial revolution, the CO2 in the atmosphere has increased by 40%" #CCS




Sec. Chu: "What's the prognosis? It depends on what the world does." If we limit, it will double. If we don't, it could quadruple. #CCS




Sec. Chu: "China sees this as an economic opportunity. We should take note of that." #CCS




Sec. Chu: IEA estimates that a third of our energy use will come from coal by 2030. How do we utilize that in a clean way? #CCS




Sec. Chu: "Our goal is to begin commercial deployment of #CCS in 8-10 years"




Sec. Chu: We are currently funding several approaches. Pre-Combustion, Post-Combustion and Oxycombustion. #CCS




Sec. Chu: "We see this as an opportunity to develop technologies that can be exported all over the world." #CCS




Sec. Chu: New tech allows you to take coal, liquefy it and put it into a car or plane as fuel and achieve lower emissions than oil. #CCS




Sec. Chu: Nine large-volume tests set to take place through 2011.#CSS




Sec. Chu: "Technology improves continuously. Once you get the thing going... scientists do remarkable things." http://twitpic.com/2mi3j3




Sec. Chu: "The country that is able to develop these new technologies quickly will be the country that will dominate" #CCS




Sec. Chu: "Airplanes are now designed by computer", skip the prototype phase. Our energy tech needs to follow that. #CCS




Sec. Chu: "Today we announced $40 Million dollars for carbon capture and storage simulation" at NETL, funded through the Recovery Act. #CCS




Sec. Chu: "We are looking for game-changing technologies" The work being done by ARPA-E embodies this. #CCS




Sec. Chu: ARPA-E working to develop a synthetic analogue of the enzyme used by red blood cells to capture CO2 in the human body. #CCS




Sec. Chu: "Industry and government must work together to accelerate innovation" #CCS




Sec. Chu: "The US has the opportunity to be the world leader on CCS, to ensure a clean future for coal and drive our future prosperity." #CCS




Transitioning to the Q+A segment of the program now. First question revolves around the 1990 Clean Air Act and what lessons it holds. #CCS




Sen. Rockefeller: To see progress, "people need to know the rules of the road." #CCS




Sec. Chu: "Once you get engineers on a problem instead of lobbyists, miracles happen." Big applause. #CCS




Chu: We have the intellectual capability and the innovation machine to lead and export, or we can import from the rest of the world. Our choice.




Sen. Rockefeller: "We have no other alternative if we want to continue with coal." #CCS




Sec. Chu: "The overall costs if you don't deal with this are going to be much, much higher - Just like water pollution" #CCS




Moving into closing thoughts now -- Sen. Rockefeller: Clean Coal is "our greatest hope in West Virginia". #CCS




Sec. Chu: As I scientist, I've been trained to think that "things that people believe to be impossible could be possible." http://twitpic.com/2miaaw




Sec. Chu: "We didn't invent the automobile, but we invented the assembly line." We were pioneers and it's "high time we got that back." #CCS




Secretary Chu closes with this thought: "It's ours to lose... and so we shouldn't." #CCS
View Secretary Chu's PowerPoint presentation from the forum.