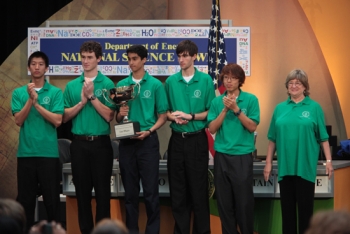 2010 Science Bowl national champions: North Carolina School of Science and Mathematics from Durham, NC | Department of Energy Photo | Public Domain |
Do you know some science whizzes in middle or high school? Because now is the time for 5-student teams to register for their region's Science Bowl competition.
Students are quizzed, Jeopardy-style, on topics including astronomy, biology, chemistry, Earth science, general science, mathematics and physics -- and the winning team from each region goes on to compete in the National Science Bowl in DC in May 2011.
This year we anticipate 15,000 high school and 6,000 middle school students will participate in regional competitions around the country, and based on those numbers -- that's about 70 high school and 40 middle school students will compete in May's National Science Bowl in DC.
The Department of Energy launched the competition in 1991 as a way to encourage young people to pursue careers in math and science. It remains the only science competition in the U.S. sponsored by a federal agency.
The 2010 National Science Bowl was hosted by Secretary of Energy Steven Chu and First Lady Michelle Obama. Here are some of her remarks:
"Congratulations again to the two winning teams and to every single student here who has participated in this year's National Science Bowl, both here in Washington and in your hometowns in the months leading up today. Again, we can't tell you how proud we are of the hard work that obviously requires putting into something like this...by competing in this event, you are sharpening the skills that have consistently moved our country forward. This is the profession that has done it in so many ways: creativity, discipline, teamwork, problem-solving, and a whole lot of hard work. That's what it takes to make change."
Registration ends for most regions at the end of the 2010 calendar year, but move quickly to ensure your team's spot! You can learn more about the Science Bowl and regional registration deadlines here: http://www.scied.science.doe.gov/nsb/default.htm.