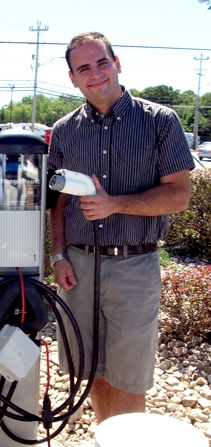 Zach Heir , a recent hire in the electric vehicle field
It's no secret that when it comes to advanced vehicle technologies, the Department of Energy is kicking into high gear. We're investing more than $12 billion in grants and loans for research, development and deployment of advanced technology vehicles. These investments are helping to create a clean energy workforce. If we want to continue a leadership role in the global automotive industry, it is crucial that we take the long view and invest heavily in the next generation of innovators and critical thinkers in the transportation sector.
Enter the Department of Energy's Clean Cities internship initiative in the Vehicle Technologies Program. Contrary to the stereotype of an assistant that gets coffee, Clean Cities' internships are more like modern-day apprenticeships. Although the practical skills taught focus on organizing events rather than carpentry, the idea remains the same. In fact, as a result of his hands-on experience with the Ocean State Clean Cities Coalition in Rhode Island, recent intern Zach Heir was just hired for a position in the electric vehicle field.
Zach, who will graduate from the University of Rhode Island in December, applied for the Clean Cities internship because of his dual interests in vehicles and clean energy. While interning, he focused on outreach and broadening the coalition's partnerships, particularly in electric vehicles. One of his major responsibilities was organizing the Take Charge! conference, which included representatives from the University of Rhode Island, Brown University, utilities and General Motors. He also assisted stakeholders interested in electric vehicles and infrastructure, such as vehicle fleets and retail businesses. He even helped the local government analyze and streamline their permitting process for electric charging infrastructure.
This experience both helped Zach obtain and prepare for his new position as the Northeast representative for Navistar's EStar line of electric trucks. As a sponsor of the Take Charge! conference, a Navistar representative heard Clean Cities coordinator Wendy Lucht mention that Zach was graduating soon. The company took an interest, and only a few months later, presented him with an offer. Zach thinks his recent Clean Cities experience will help him understand his future clients' needs. "I think there are a lot of people who might not understand the technology and putting myself as that third person, I understand … how to ease their fears," he said.
The Clean Cities internship initiative was established to foster exactly this type of professional growth. Clean Cities coordinators are community leaders who champion technologies and techniques that reduce petroleum use in transportation. However, coordinators know they also need to pass on these skills to the next generation of professionals. By providing paid internships, Clean Cities allows these students to dedicate themselves to their coalitions, whether full-time during the summer or part-time during the winter or spring semester. Wendy says that having Zach fully committed greatly helped expand her own perspective on the coalition and its potential for growth. Like Zach, interns may have the opportunity to analyze data, organize events, design Web pages and write outreach materials. Also, by participating in a nationally-based program, the interns can learn from their peers across the country. As Clean Cities will soon be recruiting interns for the upcoming 2011 winter/spring semester, keep an eye out if you live or attend school near a Clean Cities coalition.
All of these programs are dedicated to developing a workforce that is ready to tackle the challenges of reducing our petroleum use and greenhouse gas emissions. We believe that our programs will help many more students like Zach gain both knowledge and experience in these vital industries.
Dennis A. Smith is the National Clean Cities Director in the Vehicle Technologies Program, Office of Energy Efficiency and Renewable Energy at the Department of Energy.