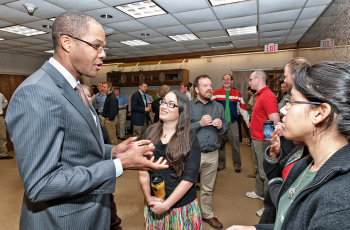 Assistant Secretary Chris Smith meets with UT undergraduate students studying geological research. | Photo by David M. Stephens, The University of Texas at Austin.
Recently, Acting Assistant Secretary for Fossil Energy Chris Smith took the Energy Department's message of smart and sustainable fossil energy development to Texas, where he met with researchers and students at the University of Texas (UT) in Austin.
Smith's first stop was a meeting with the university's Bureau of Economic Geology (BEG) -- the university's oldest research unit, which also functions as the state's Geologic Survey. The Energy Department has partnered with BEG on research projects, including studies involving carbon dioxide (CO2) storage and natural gas recovery.
Along with the director of DOE's National Energy Technology Laboratory (NETL), Smith met with BEG researchers to discuss the Bureau's energy and environmental programs. Among the topics discussed were BEG's CO2 programs and issues surrounding the production of unconventional resources. The tour of the Bureau included an examination of subsurface core and cutting records. These records help researchers and producers understand local geology to prudently develop our natural resources in an environmentally sustainable way.
One of those resources -- shale gas -- is important to the nation's energy security, environmental sustainability and economic growth. And it's particularly important to Texas, which is a leader in shale gas development. The Energy Department's early research and investment helped lay the groundwork for the expanded use of natural gas trapped in shale formations.
One of the most important parts of the visit was the opportunity it afforded Smith to meet with BEG's researchers and undergraduate students. These are the "boots on the ground" when it comes to the application of geological research to energy and environmental research. Meeting with these experts and the next generation of researchers highlighted the importance of equipping young scientists and technical professionals to meet our energy and environmental challenges.
At the end of the day, the meetings underscored the Department's commitment to working with states on energy and sustainability issues that affect all of us. The track record of that commitment can be seen across the energy spectrum. And it's clearly evident in the Energy Department's ongoing work to ensure the development of the nation's fossil resources in a way that ensures our energy security, environmental safety and economic growth.