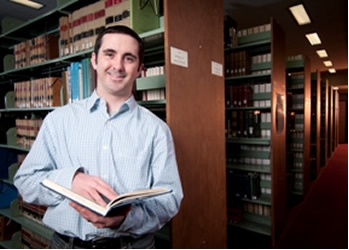 Mark Cecchini-Beaver at the University of Idaho is one of ten new participants in the Hydro Fellowship Program. | Photo courtesy of the Hydro Research Foundation.
Today, the Energy Department, in cooperation with the Hydro Research Foundation, announced the 2012 selections for the Hydro Fellowship Program. Through their research, these 10 new Fellows will work to advance hydropower technology development and deployment in the United States.
Through targeted workforce development and training opportunities, the Hydro Fellowship Program supports the Obama Administration's goals of advancing education opportunities in the science, technology, math and engineering fields. In total, the program has funded 33 graduate students at 19 universities in 16 states. Together this next generation of hydro-power leaders will strive to make hydropower more efficient, environmentally friendly, and cost effective.
The fellowship program, which is funded by the Energy Department, provides Fellows with financial assistance and the opportunity to pursue a wide variety of hydropower research topics – including those related to water quality, wildlife interactions, environmental impacts, technology development and more. Each Fellow is paired with a mentor to gain real-world knowledge of the hydropower industry.
The 2012 class of Hydro Fellows includes:
Mark Cecchini-Beaver at the University of Idaho, who will develop a computer model describing the legal, technical, and physical constraints of the Columbia River, and use this model to inform review of the 2014/2024 Columbia River Treaty.
Sean Brosig at Oregon State University, who will research a methodology to reduce the strain on hydro turbines using life-extending control of multiple energy storage systems.
Stanley Dittrick at Washington State University, who will research novel materials and coatings to reduce erosion and damage of turbine surfaces.
Samuel Dyas at the Colorado School of Mines, who will research instrumentation and analysis techniques and explore their application in monitoring functioning turbines to allow for predictive maintenance.
Benjamin Foster at the University of North Carolina, who will research how financial risk management techniques can be used to enable more sustainable hydropower production.
Adam Greenhall at the University of Washington, who will research the cost-saving benefits of using computer models to find optimal scenarios of wind, hydro, and thermal energy generation to allow for constant and least-cost energy production.
Tresha Melong at Worcester Polytechnic Institute, who will research how hydropower projects can be designed to allow for the downstream passage of the American eel.
Mark Raleigh at the University of Washington, who will research how to improve the representation of snow in summer hydropower forecasting.
Karen Studarus at the University of Washington, who will conduct research to better understand how operators dispatch hydropower and other energy sources and balance these with competing water uses in the Federal Columbia River Power System.
Marc Whitehead at Oregon State University, who will conduct a design and manufacturing study of hydraulic turbine systems using composite materials with natural and recycled fiber reinforcements.
Visit the Hydro Research Foundation's website for a detailed list of the Fellows and their work.
For more information on how the Office of Energy Efficiency and Renewable Energy works to accelerate the development and deployment of hydropower technologies, visit the Water Power Program website.