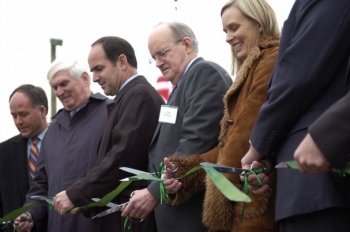 John Ferrell (center -- 4th from left) participates in a ribbon cutting ceremony marking the grand opening of a cellulosic ethanol demonstration facility in Tennessee. | Photo by Amy Smotherman Burgess.
Growing up in America's heartland -- South Bend, Indiana -- John Ferrell knows a lot about national recognition. After all, almost every Saturday afternoon when they played at home, his Fighting Irish of Notre Dame football team attracted huge crowds and the national spotlight. But John, a long-time Energy Department employee, could not have predicted that one day President George W. Bush would single out his pioneering energy crop research on switchgrass for favorable mention in his 2006 State of the Union address. Demonstrating the non-partisan appeal of John's work, President Barack Obama has frequently referenced switchgrass as part of his "Plan to Secure America's Energy Future." The high-level recognition for John's work in biomass was the result of decades of research and collaboration with numerous partners and his homegrown Hoosier persistence. Starting in 1986, John began focusing on screening trials for new energy crops grown on marginal croplands unsuitable for food crops. The feedstocks would be converted into ethanol to reduce the nation's dependence on overseas sources of petroleum.
John, who holds a master's degree in silviculture from SUNY-Syracuse, was attracted to two energy crops: hybrid poplar trees and switchgrass. He developed a research plan for each which encompassed the Land Grant universities, Oak Ridge National Laboratory and his colleagues at the Energy Department's Office of Science. John particularly likes switchgrass because it's a native plant, does well in most parts of the country, is a perennial grass, has deep roots, sequesters carbon, and can serve as a forage crop. "We have made a lot of progress with switchgrass," he says modestly. Now, even members of his health club talk about switchgrass in the locker room, John says.
After spending five years in the private sector, John joined the U.S. Department of the Interior in 1978 and transitioned over to the Energy Department several years later when the agency began handling biofuel feedstocks. He now serves as a senior manager for the Department's Biomass Program where he oversees not only crop research programs, but also leads initiatives in feedstock logistics that will improve the equipment and techniques for harvesting and transporting those innovative energy crops to the biorefinery.
John takes pride in giving energy feedstocks a higher profile in both federal and state governments and advancing federal inter-agency cooperation. His passion for crops isn't limited to his professional life though. In his spare time, John is an amateur gardener -- tomatoes, not switchgrass.