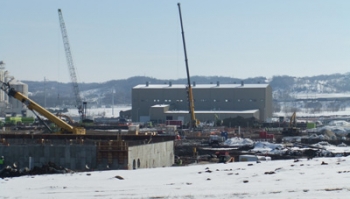 Novozymes was awarded a $28.4 million tax credit to build an enzyme facility in Blair, Neb. | Photo courtesy of Novozymes
The biofuels company Novozymes received a $28.4 million tax credit under the Recovery Act for the construction of a new facility in Blair, Neb., that produces enzymes to turn waste into fuel. The project, sparked by the increasing demand for cellulosic fuel, will create 100 green jobs and reduce the company's transportation costs and carbon footprint.
The facility will manufacture the company's "enzyme cocktail," which converts cellulose in various feedstocks, waste paper and cardboard, wood chips, and corn into simple sugars that are then fermented into biofuels.
Fred Reikowsky, general manager of the new plant, says the Advanced Energy Manufacturing Tax Credit demonstrates the Department of Energy's confidence in the company's enzyme technology to further commercialization of advanced biofuels, a resource that's becoming popular in the United States.
"The role of public sector support is to provide a base for investor confidence as a new technology moves through the commercialization and deployment phases," Fred says. "The incentives are a needed component in getting the industry to a scale that allows independent growth and investment."
Demand for biofuels has soared over the last 10 years and is expected to more than double between 2010 and 2020, according to a recent global market analysis by GlobalData. Supply for the resource has also risen. Under the Energy Independence and Security Act of 2007, the Renewable Fuel Standard program increased the volume of renewable fuel required to be blended into transportation fuel from 9 billion gallons in 2008 to 36 billion gallons by 2022.
The main purpose of the new facility is to support the biofuels market and eventually compete in the energy industry, Fred says. "I think the partners we are working with, using our enzymes, can get the cost [of advanced biofuels] down below $2 a gallon," he says.
The company seeks to hire locally to fill the 100 green jobs.  The facility will employ chemical and electrical engineers, information technology specialists, and equipment operators to run the plant.
Novozymes broke ground in 2009 and expects the new building, which will be situated next to their blending facility, to be completed in 2012.  Once it's built, the company will produce enzymes closer to its customers, minimizing shipping and resulting in lower energy costs and greenhouse gas emissions.