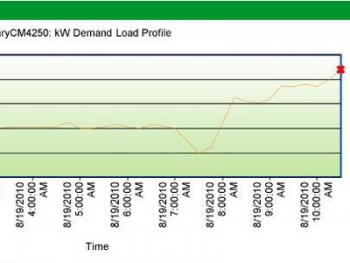 Captured data from the monitoring system at the public library shows that energy usage was highest at 10:30a.m., a time when a number of patrons in the library would be using computers and lighting. | Photo courtesy of Texas Institute for Sustainable Technology Research
With more than $1 million in Energy Efficiency and Conversation Block Grant (EECBG) funding from the American Recovery and Reinvestment Act, the city of Richardson, Texas is creating a baseline: collecting data and monitoring energy usage before investing in more substantial projects.
The city spent $150,000 in EECBG funding on the energy monitoring system contract at seven facilities in Richardson - ranging from city hall to the main public library. These sensors record energy usage – down to 15-second increments - throughout the day, making it easy to spot consumption trends.
"We're putting these monitoring systems in place to get real-time data usage on a minute-by-minute basis. This will help us better identify what operational changes we can make in the future to save energy," says E.A. Hoppe, assistant to the city manager.
Based on these recommendations and data, the city will use remaining EECBG funding to "tweak" the buildings. These projects will include retrofitting existing lighting systems to reduce lighting densities, in addition to retro-commissioning the heating, ventilation and air conditioning systems. The city will also use the energy data from the monitoring system to verify and compare the pre- and post-project efficiencies gained.
Once the data is in and the seven buildings are retrofitted, officials estimate that the city could save up to $300,000 a year on energy bills. "Some are efficiency based savings from the retrofits and some will come from operational/behavioral changes that we'll be making based on the data and recommendations from the monitoring system," Hoppe says.
More savings in the near future
Early next year, the city plans to use about $275,000 in EECBG funding to begin retrofitting the Huffhines Recreation Center with several renewable energy systems. The buildingis planned to received solar panels, a solar water heating system, two small wind turbines and an electric vehicle charging station. The building is currently going through the LEED certification process by the United States Green Building Council.
"The City Council was very diligent in selecting projects that provide for a good return on investment with these taxpayer dollars," Hoppe says.
The system contract is with the Texas Institute of Sustainable Technology Services, a nonprofit that provides research and development on sustainable technology solutions for government agencies, commercial businesses and other organizations.
On top of the savings, Hoppe says that supporting local sustainability business — Texas Institute is based a few miles from Richardson — is a great bonus of the program.
"The north Texas region, and Richardson especially, has a budding local sustainability economy, and these projects are really helping it to grow."